Worth a read – every bit of it.
Debra Jeffreys-Glass creator, organizer, collaboration builder of  M'Finda Kalunga Garden's Juneteenth. The longest running Juneteenth on the Lower East Side. And winner of Downtown Arts and FABnyc 2022 Hero Awards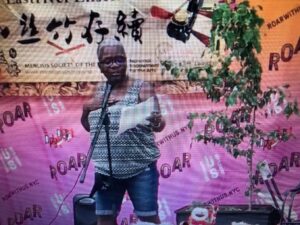 Hi everyone, I'm Debra Glass, Vice President of the Sara Roosevelt Park Community Coalition.
I'm a proud partner of K Webster, who many of you know as a tireless advocate for this park and the local and greater communities that it serves. She's not able to be here with us today but she'll be soon, back doing what she does – bringing us all together to do good things.
First, I'd like to thank University Settlement and Myles, and her tremendous staff for pouring your hearts, minds, souls, bodies, and energy into this neighborhood and park's well-being.
We deeply appreciate how for this entire summer; this park has been filled with a mighty and glorious ROAR. Aside from it being a powerful sound of strength and power, ROAR – set this community up all summer long to Rejoice! Organize! Activate! Reclaim! – this amazing park resource. Every Saturday and Sunday, even on those hot and muggy afternoons, ROAR! provided over 200 hours of FREE programming – yes, "free-99", and accessible to anyone and everyone, week after week: Playground activities, programs and classes for ALL AGES from dozens of community partners in Chinatown and the Lower East Side. Thank you so much.
ROAR is a shining example of the kinds of anchors of safety we all need in this park – making them spaces that are alive and active with positive community use. Our children, our grownups, our elders, our teens, our visitors, we all deserve this kind of life affirming community building – not only as a summer long festival, but as a permanent feature of this park.
As K wrote, "We, and our community and partners, remain determined to have a park where all people are greeted as an opportunity for friendship and caring across every divide. We will continue to advocate for all resources we know are necessary to create a safe, beautiful, resilient, joyous, and welcoming neighborhood park – a park of peaceful coexistence in our complex city. We have worked hard for many generations here to have the community we would all wish to live in, and it is the only kind of community we will accept."
What K wrote is not an abstract concept or a hope. There is a well-defined roadmap to creating permanent anchors and resources that would make this neighborhood park safer.
First and foremost, returning the Stanton building to the community would allow us to ROAR like this all year long. It would make this kind of active community use a regular and ongoing feature of this park — and this neighborhood. We know that multi-generational and cross-cultural opportunities to meet and share experiences with others – are essential to building connections – and creating, as well as sustaining, community.
Other areas of the park need resources and attention for us to reclaim them for community use. South of Delancey, the Hua Mei bird sanctuary needs new fencing – this would allow these long-time residents of our community to safely share what they love with the larger community.
Both Grand /Delancey streets need safe, accessible entryways into the park so that coming inside feels welcoming and open.
A couple of days ago, one of my colleagues encouraged the group of educators in the meeting to think about our work together – not from the perspective of "what's wrong", but approach with the question "what's possible". We know what's possible in this park. We've done it before, and we're going to do it again. It is possible for this park to be a glorious example how our collective community might and energy can reclaim this park as a safe and vital neighborhood resource for us all.
Bob – I had intended to recognize Bob's impact on our neighborhood and park. I want to acknowledge that so much of what we do is as a result of his efforts – from riding around on a bike patrol chasing drug dealers out of the park, to offering the chance to contribute labor to the upkeep of the park…Many of us are here because of Bob's understanding of the importance of the invitation, "Can you help me with something?" That it gives us all a chance to be a part of making our community a better place.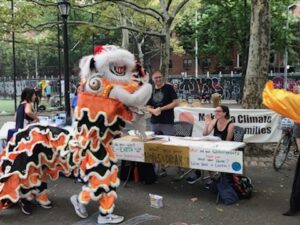 Post published:

December 13, 2022

Post category:

News

Post comments:

0 Comments