The neighborhood has joined forces to start a petition to save Rivington House.
Rivington House staff and residents have been members of the Sara Roosevelt Coalition since 1994. They were integral to this neighborhood. We are urging the mayor to join other electeds in working to return the building to its rightful occupation: serving this low-income communities most vulnerable members.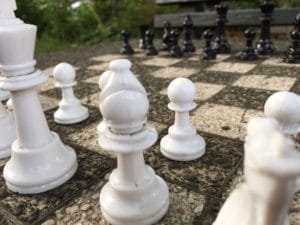 From the Lo-Down:
"For weeks, Lower East Side activists tried to get the mayor's attention on Rivington House. While their initial pleas were ignored, the controversy surrounding the former nursing home has now become a scandal for the mayor who pledged to bridge the divide between the "haves" and the "have-nots" in New York City."
"Rivington House was built by the public for the public to serve its low-income Lower East Side neighborhood.
The building's deed required it to remain a not-for-profit health care facility in perpetuity, and from 1995-2014, the former public school served as an AIDS/HIV hospice, providing vital end-of-life services to our community's sick and frail.
But after a series of questionable deals and a secret deed restriction reversal by the city, a group of investors and real estate developers bought the property with the sole intention of turning it into a high-end luxury condo building.
This neighborhood doesn't need more investments opportunities for the wealthy; we need affordable, supportive homes for our community's most vulnerable.
It's time the Mayor stand up for this city's elderly and sick and stand up to profiteering real estate developers who are tearing apart all of our communities.
Help us win Rivington House back for the community that needs it. Sign this petition and tell Mayor De Blasio to reverse the deed restriction and return Rivington House to the people of the Lower East Side.
Thank you for helping us win this vital building back. " – Neighbors to Save Rivington House