May 8th, 2021 World Migratory Bird Day site here.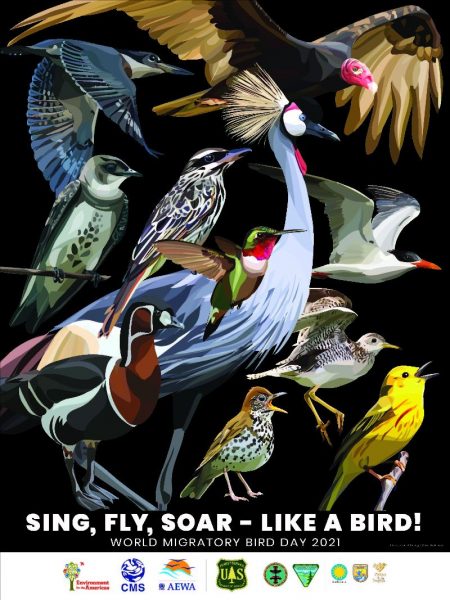 Artwork by Sara Wolman who grew up in Queens, New York
Global Event Map Here.
"During this year's event, World Migratory Bird Day (WMBD) will imbue the activity of birdwatching, a past time enjoyed by some 86 million Americans, with deeper meaning. WMBD will teach participants at more than 700 locations from Argentina to Canada how to identify birds, how to connect with them, and how to delve deeper into bird biology, investigating such topics as the difference between birdsong and call, the mysteries of migration, and the astounding power of flight."
The '3.5% rule': How a small minority can change the world: HERE.
Key Message in 2021
"Migratory birds connect us with their unique songs and flights, and remind us of the importance of working together, across borders, to protect them."
Please visit the Resources page for further materials and to learn more about the 2021 Theme: "Sing, Fly, Soar – Like a Bird!".
Activities around the world
Below are some of the planned World Migratory Bird Day 2021 activities we are already aware of and we will be adding new activities to the website on a continual basis. We would also be delighted to hear about your plans and would like to encourage all event organizers to register their event on the WMBD website so that it appears on the global event map.
Events marking World Migratory Bird Day 2021 will generally be 'migrating' online, as many countries are still heavily affected by the COVID-19 pandemic. Many virtual talks and a wave of online interactions dedicated to migratory birds are expected to take place in many countries, with educational programmes being offered virtually by many organizations including schools, museums, parks, zoos, libraries, wildlife refuges and wetland centers.
Through the online platform BirdDayLive, a full day of activities for schools, youth and families is being planned for 7 May 2021 in the Americas, as well as two book club presentations highlighting the books "Ornitherapy" and "A World on the Wing".  The website will also be featuring a series of online webinars on topics relating to bird conservation, including a series of mini-workshops to explore how birds sing, fly and soar.
For the first time, a World Migratory Bird Day Virtual Choir is being organized by the East Asian-Australasian Flyway Partnership and the Bowerbird Collective, inviting people around the world to record themselves singing "like a bird" along a newly created song (with no lyrics so anyone can get involved).
Finally, to mark World Migratory Bird Day 2021, thousands of birdwatchers will be recording their bird sightings along all the major flyways of the world by joining Global Big Day on 8 May. This high-profile global citizen science event, powered by the Cornell Lab of Ornithology, brings the world's birders together to record sightings via the eBird app, and help set a new world record for the greatest number of birds recorded on a single day.
Organize your own event and become part of the global celebration! Do you have something planned for World Migratory Bird Day 2021? Then please make sure to register the activity on the WMBD website. For major "flyway scale events" please send us a short descriptive text (max 400 words) and 1-2 images so we can help promote it via our channels.
How can you get involved?
Year after year, hundreds of events take place to celebrate World Migratory Bird Day in many countries across the world. Every event is unique in its own way, and as diverse and creative as the people and organizations involved. Below are a few things you can do to get involved:
Help Spread the Word!
Help promote the campaign. Please help spread the word about World Migratory Bird Day by announcing it on your own website, newsletters and via your social media channels. Please use the resources on our website and in our social media pack (trello board) for this purpose.
Send in a statement. As every year, we would be delighted to receive statements to mark World Migratory Bird Day 2021. These could either be short (1-2 minute) video messages or written statements (maximum of 800 words) which we will be adding to the World Migratory Bird Day website. Please send your statements to: contact@worldmigratorybirdday.org  by 6 May 2021 for us to be able to add them to the website.
Tweet, tweet – like a bird! Please help promote World Migratory Bird Day through your own social media accounts and channels. Please use the material you can find in our social media pack to create your own posts in support of WMBD or re-share post you can find on the WMBD Twitter, Instagram and Facebook accounts. Please make sure to use the main hashtags: #WorldMigratoryBirdDay and #WMBD2021 as well as the secondary hashtags for this year: #SingFlySoar #LikeABird and #ForNature
Raise Your Voice for Bird Conservation
The theme this year is unique in that it directly appeals to people of all ages to express themselves, to use their own human voice and creativity to show their appreciation and support for birds and international bird conservation. We encourage all participants to use World Migratory Bird Day as an opportunity to express their support for bird conservation and to highlight what they are doing in support of migrator birds.
Be Creative!
Linking human song with the song of birds opens a huge spectrum of creative possibilities which can be universally applied across borders in many countries around the world. Ideas range from tapping into existing popular songs dedicated to birds from all corners of the world, to activating people in different countries to "speak up" and to actually sing for birds, i.e. to "sing like a bird – for migratory birds" in their own language.
SING and FLY #LikeABird!
In order for this to become a truly global "wave of human creativity and expression" for birds and nature, people should record and share their bird inspired songs (or other forms of creative expression!) on social media using the following hashtags #SingFlySoar #LikeABird.
Another possible activation path for the "#LikeABird campaign", could be to invite nature photographers and film makers to share their best "birds in flight" videos and photos via social media using the hashtags #SingFlySoar #LikeABird.
Similar to the "act of singing" one could also go a step further and link bird flight with actual human flight, looking at everything from sky diving, hang gliding, paragliding and other activities which are associated with a form of aerial adventure.  Participants are encouraged to share their "in flight" photos and videos via social media using the hashtags #SingFlySoar #LikeABird.
Register an Event
United by a common theme and campaign, WMBD events take place in all corners of the world and involve and inspire thousands of people of all ages and backgrounds. While events are usually organized on one of the two peak days of World Migratory Bird Day (i.e. on the Second Saturday in May and in October) events can actually be linked to World Migratory Bird Day throughout the year.
There are really no limits on creativity! Past activities and awareness-raising events have included bird-watching tours, online educational workshops and exhibitions, webinars, festivals, and painting competitions, which have been organized at schools, parks, town halls, education centres and nature reserves.
Visit this page to be inspired by past events and once you know what you want to do – please make sure to register your activity on the WMBD website.
Visit the Website
Further information on the campaign, the 2021 theme and its history can be found on this website.
In the coming weeks we will continuously be updating the website with new materials and stories which you can share and use to promote your own activities linked to World Migratory Bird Day. Please also write to us if you have some suggestions or ideas for stories or things to add to the website: contact@worldmigratorybirdday.org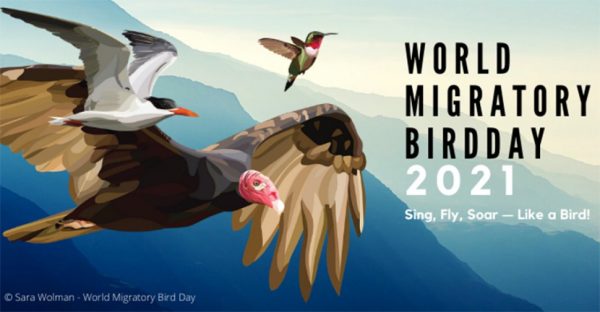 Artwork by Sara Wolman