NYTimes: By Dan Hurley 1/
"What we are discovering around collective efficacy was not terribly obvious before we started to measure it with some precision."
Getty images: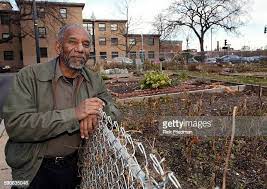 "…the study planned and conducted by Dr. Earls and colleagues to unravel the social, familial, educational and personal threads that weave together into lives of crime and violence."
"Dr. Earls and his colleagues argue that the most important influence on a neighborhood's crime rate is neighbors' willingness to act, when needed, for one another's benefit, and particularly for the benefit of one another's children. And they present compelling evidence to back up their argument."
"His study, based in Chicago, has challenged an immensely popular competing theory about the roots of crime. "Broken windows," as it is known, holds that physical and social disorder in a neighborhood lead to increased crime, that if one broken window or aggressive squeegee man is allowed to remain in a neighborhood, bigger acts of disorderly behavior will follow."
"The American Journal of Sociology, Dr. Earls reported that most major crimes were linked not to "broken windows" but to two other neighborhood variables: concentrated poverty and what he calls, with an unfortunate instinct for the dry and off-putting language of social science, collective efficacy."
"Will a group of local teenagers hanging out on the corner be allowed to intimidate passers-by, or will they be dispersed and their parents called? Will a vacant lot become a breeding ground for rats and drug dealers, or will it be transformed into a community garden?"
"Such decisions, Dr. Earls has shown, exert a power over a neighborhood's crime rate strong enough to overcome the far better known influences of race, income, family and individual temperament.
"If you got a crew to clean up the mess," Dr. Earls said, "it would last for two weeks and go back to where it was. The point of intervention is not to clean up the neighborhood, but to work on its collective efficacy. If you organized a community meeting in a local church or school, it's a chance for people to meet and solve problems."
"If one of the ideas that comes out of the meeting is for them to clean up the graffiti in the neighborhood, the benefit will be much longer lasting, and will probably impact the development of kids in that area. But it would be based on this community action — not on a work crew coming in from the outside."
"As for policy implications, Dr. Earls said that rather than focusing on arresting squeegee men and graffiti scrawlers, local governments should support the development of cooperative efforts in low-income neighborhoods by encouraging neighbors to meet and work together. Indeed, cities that sow community gardens, he said, may reap a harvest of not only kale and tomatoes, but safer neighborhoods and healthier children."
And…we knew this…