Nov 16 – 5th Precinct's Build a Block Meeting Sector B*
Led by Neighborhood Coordination Officer (NCO) Dhundup and Smith (NCO Mia was at a training) gave detailed reports. All the Officers including Connor and Lee, whose hours are 5:30pm-2:30am [approximately], answered many questions from the neighborhood. Contact info below.
Thank you to all the officers for their work in this community.
Thanks to Senator Kavanagh's liaison, Pat Olan, for taking notes and asking questions some of these notes are a combination of what we could gather.
*The notes below are NOT confirmed so please reach out to the officers to ensure accuracy.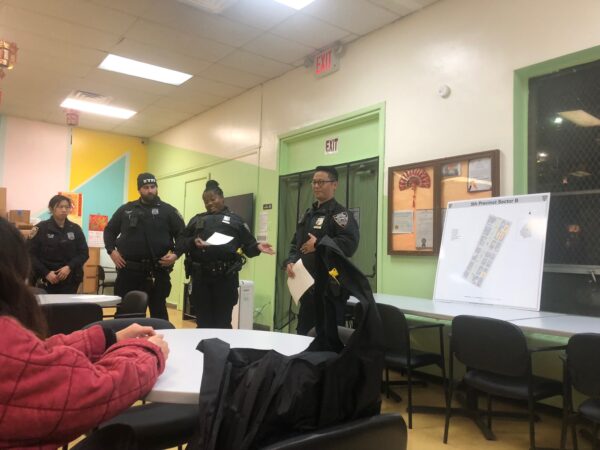 Police Report:
-A Task Force is patrolling in unmarked vehicles,
-K2 /heroin dealing in the park.
-There is now a Patrol from 5:30pm-2:30am [approximately]. Officers were hearing lots of criminal activity during that time. Using "Pattern staffing"
-Some DOT issues
-Smoke Shops are areas of drug activity: 99 Allen, 42 Rivington, 61 Delancey issues (one other didn't get name).
-The police have thin staffing, now deployed to transit too.
– Sector B has a new Sgt.
Crime is down but this is what has been happening:
-30-40 summons written multiple drug sales – crack in front of BRC.
-Assaults, homeless sleeping in park, drug dealers in front of BRC – (dealers have moved from south Delancey area).
-One sexual assault reported [?].
-14 total narcotics arrests. Allegedly the DA let them out next day.
-Burglary 10 Chrystie side: 3 arrests
-Rivington/Broome/Allen: A lot of drug dealing.
-36 Grand Larceny arrests: Grand Larceny -anything more than $1000 is grand larceny.
-Phone snatches, 2 or 3: which is an immediate Grand Larceny charge.
(If anything is taken from someone's body, it is automatically Grand Larceny: headphones etc)
-Vehicle break-ins Rivington 2 perps arrested
Freeman's Alley?
Police Requests
Signage with Parks rules and regulations posted North and South of Delancey and north of Grand (the former signs are gone).
Cameras in the Grand Street subway station: funding for CCTV Cameras? Coalition has directly asked MTA to install.
Complaints at the Meeting:
 -167 Bowery at Broome/Delancey, abetted by the scaffolding, an increase in drug dealing and a homeless encampment. Doesn't appear to be stoppable. Some resident would like the WiFi Link kiosk removed. Officers stated that the Public Safety Team will be informed
-Residents would like Rivington (all) playground signs with clarity: "no adults without children (and no dogs!)" The signage has been requested and is on order by Jamil Philips Project Manager who said it arrives soon.
-174 Forsyth: MTA's workers are allegedly parking in a "No Parking" zone. – PO said to let the officers know asap and they will ticket.
Requests for signage or to repaint the curb go to DOT and/or contact MTA construction company/elected officials.
Rivington Park pathway has become a racetrack for motor bikes & cars.
Speed bumps? Bollards? Closing the streetway, putting blocking planters to direct and/or slow vehicle traffic, painted lines for bikes/signs that say "SLO Children Crossing"?
Parks Department issue: It's inside the park on Rivington 'streetway'. The playground is across from the M'Finda Garden – children go back and forth across the Rivington 'streetway'.
-(Many) noise complaints about Ray's Bar on Rivington for this venue. Constant complaints. Blocked sidewalk passage for people who are disabled. Illegal trash dumping – allegedly putting trash in front of other buildings or in the city trash collection (should have their own pick-up?) Call 311, get the complaint number and report it to CB3 District Office. Or send to Pat Olan and she will send to Dept of Sanitation.
Information:
-MTA construction Forsyth at Rivington: 2 more years/ arbitrary street closures
-School Construction scaffolding at Forsyth/ Stanton
-Mount Sinai – construction termination – early 2023
Wellington Chan/ChinatownBID non-profit asked for the hot spots in Sara Roosevelt Park They donate CCTV cameras for different storefronts.
Lighting needed throughout the park DOWNWARD facing so they don't affect birds/wildlife and keeps it focused on the pedestrian areas. Particularly in front of BRC, 30 Delancey and Broome Street/Delancey/Grand area.
Parks Manager and Forestry has worked on pruning for visibility.
Again, these notes are NOT confirmed so please reach out to the officers to ensure accuracy.
5th Pct Neighborhood Coordination Officer (NCO) Sector B
PO Dhundup NCO  Cell: 917-742-2409 Email: tsering.dhundup@nypd.org
PO Mia NCO  Cell: 917-515-6308  Email: JASIM.MIA@nypd.org
LT Mckeefrey Special Operation Lieutenant Email: daniel.mckeefrey@nypd.org
SGT Mottola NCO Sergeant Email: joel.mottola@nypd.org