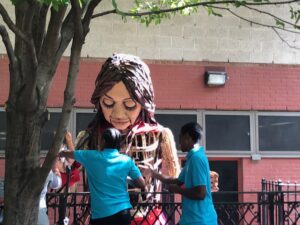 It's My Park Day! Stanton Task Force
October 30th 12pm – 3pm Stanton Area of Sara Roosevelt
University Settlement, FABnyc, GreenMap, Partnerships for Parks, Partnerships for Parks, and Sara Roosevelt Coalition and It's My Park Day!
Help advocate for the Stanton Buildings return – Halloween and art projects, planting bulbs, advocacy for the park, FreeStore, and more.
Volunteers welcome to come plant bulbs!
Council Member Chris Marte Seeks Suggestions for Allocating Capital Funds to Local Projects
Let's hear your voice!
"My Project Idea is" http://ideas.pbnyc.org/14/40.71441/-73.99854
From the Stanton Task Force:
Renovations for the windows, doors, and exterior lighting of the northernmost building in Sara D Roosevelt Park, the Stanton Parkhouse
So that people can:
Better enjoy the park and feel safe while walking through the park. The Stanton Parkhouse is uniquely situated to be an anchor for SDR Park at its north end, but its current underuse can make it feel abandoned and unsafe. By revitalizing the exterior of the building, we can create a safer park environment for neighbors and parkgoers. The improved lighting can address safety issues in the area, and along with the exterior repairs, will encourage more foot traffic. By encouraging more neighbors and visitors to use SDR Park, these repairs will benefit nearby businesses and enhance the feeling of community and safety in the neighborhood.
https://sdrpc.mkgarden.org/updated-return-stanton-parkhouse-to-fdrs-intended-use-for-this-community/
Draft Proposals for Delancey South to Grand North & Petition to Save the Pit https://sdrpc.mkgarden.org/petition-to-save-the-pit-and-draft-proposals-for-delancey-st-south-to-grand-st-north/
Sara Roosevelt Park From NY4P in the News Friday morning parks news round up.
"Study after study and our own practice has shown that the only way a park truly becomes safer is when the public uses it–Jane Jacobs'… "eyes on the street." Anchors of positive use are needed…they have been offered, requested and consistently stonewalled: small business' kiosks staffed by high school teens, parkhouses as bustling multi-use hubs, accessible entryways, popular sites upgraded, water sources…infrastructure, and an incentivized, job-secure park staff." – K Webster Pres SRPCC
Op-Ed | Local communities have been fighting for our parks — it's time for the city to help (amNY, September 22, 2022)
5th Precinct's Build a Block Meeting Sector B (Sector B is Sara Roosevelt Park and nearby)
Wednesday November 16 at 6:30
Talk directly to local patrol officers. PO Tsering Dhundup, PO Jasim Mia, PO Daniel Au, PO Fei Dong, DET William Campaign, PO Lucian Velazquez
Location: BRC Senior Center 30 Delancey Street (inside the park – north Delancey side)
More info https://www1.nyc.gov/site/nypd/bureaus/patrol/precincts/5th-precinct.page
Clean Up Broome Street Area! with Sokie and Ken's "Clean Up NYC!" Saturday October 15th 11:30am to 1:15am Volunteers are welcome!
M'Finda Kalunga Garden IMPD October 15th! Halloween October 30th!
Rivington House Memorial Plaque installed
In memory of the residents and workers, the neighborhood, and the institution that stepped up to welcome in this state-of-the-art HIV/AIDS nursing home facility.
Volunteer gardeners are welcome to help maintain this plot. Please contact this email address to be put in touch with Rob, the Gardener who has been caring for it.
Little Amal, an international symbol for immigrants and refugees, visited Sara Roosevelt Park on September 28. (Alex Aron -Remote Theater Project/Tenement Museum/Wellington Chen- Chinatown Partnership, etc)
https://sdrpc.mkgarden.org/little-amal-walks-into-sara-roosevelt-park/
Commemorated: the 11th Anniversary of Pvt. Danny Chen's Death– after weeks of hazing and racial harassment while serving in Afghanistan. Danny Chen Way.
Alexander Hamilton Immigrant Awards Ceremony: Honored Wellington Chen ED Chinatown BID/Partnership, Michael Arad Twin Towers Memorial, Commissioner Manuel Castro MO Immigrant Affairs!
A bit of Indigenous land history here:
"About sixty -five hundred years ago…this environment attracted small-game hunters and foragers..most spoke Munsee, a dialect of the Delaware language which their name for themselves was Lenape- "People". Their land was Lenapehoking "where the Lenapes dwell"
Within the five boroughs…archeologists have identified about eighty Lenape habitation sites, more than two dozen planting fields, and the intricate network of paths and trails that laced them all together" – Gotham
African Heritage Land History Here
Broome Street and Forsyth land once owned by African formerly enslaved men and used as a buffer between the Dutch to the south and the Lenape to the north. More to come from our local researchers.
Sara Roosevelt Park Community Coalition
https://sdrpc.mkgarden.org/
https://www.facebook.com/StantonBldg
@SaraRPCC