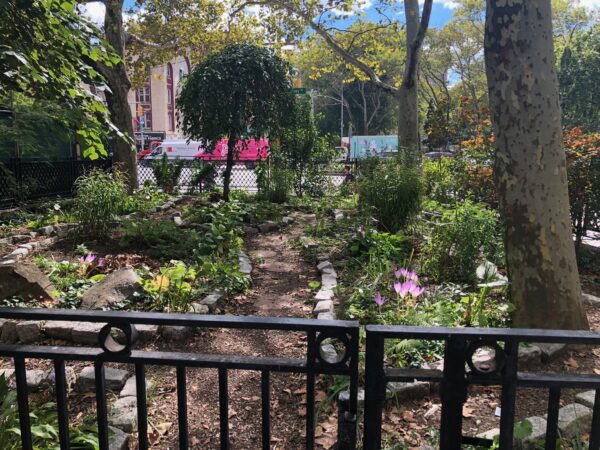 The garden plot on Forsyth and north Delancey in Sara Roosevelt Park shall henceforth be known to us as the Rivington House Memorial Garden.
Volunteer gardeners are welcome to help maintain this plot. Please contact this email address to be put in touch with Rob, the Gardener who has been caring for it.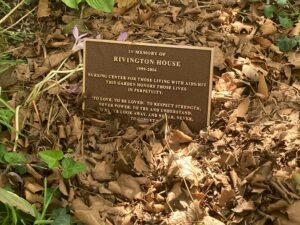 In Memory of Rivington House 1995 -2014 Nursing Center for those living with AIDS/HIV. This garden honors those lives. In perpetuity.
"To love. To be loved. To respect strength, never power. To try and understand. To never look away. And never, never, to forget." – Arundhati Roy
Rivington House Memorial and Garden
Val Dickerson spoke and a plaque was unveiled to the memory of the residents and workers, the neighborhood, every ally, media, elected reps, and all organizations that stepped up to welcome and preserve this state-of-the-art HIV/AIDS nursing home facility.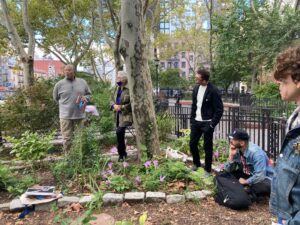 We miss our former neighbors and are sorry we could not bring them back to their home and retain a nursing facility sorely needed in this community. For a glimpse of life inside, see Fury Young's film on Alexander Pridgen.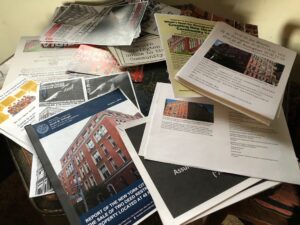 This brings our efforts as Neighbors to Save Rivington House to a close. We thank all of those who helped in this fight to retain the building, the public's building, as a health care facility, in perpetuity, as the deed promised.
The infamous Allure Group was required by the Attorney General's office to provide restitution to this neighborhood. Given their history and the reality and their performance elsewhere during the pandemic, we do not think the Allure Group is capable of running a caring nursing home – particularly for the demographic this building served.
The Sara Roosevelt Park Community Coalition welcomes Mount Sinai's Behavioral Health Center as our new neighborhood partners.
-The Steering Committee of The Neighbors to Save Rivington House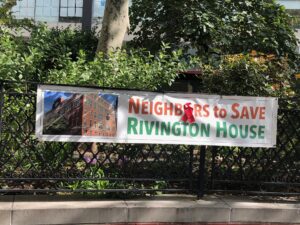 A few quotes from our neighbors on why they joined to support the effort.
A place and staff that gave dignity and love to the sick.
RH will always stand as a monument to compassion for me
Love,
Michael
I remember when Rivington House was being built. As a neighbor, I was so happy services were available to people who were so ill, right nearby. Now we are losing a huge and important resource and it's so sad. I hope the deal can be undone and the building returned to serve our neighborhood. – Shy Pa?
Olga Colon.
I would love to stay in the nursing facilities in my neyborhood [sic] when I get old.
Rosies mother, Elena Is dying of metastatic cancer. She wants to stay home – in Brooklyn. She can no longer stand at all, but will not get into the hospital bed hospice has provided. She knows if she  gets in the bed she will never get out. Rosie cares for her mother 24/7. She took unpaid leave from her job. She will quit her job if her mother stays alive longer than her legally required (unpaid) family medical leave. The trouble is Rosie's 4 sons (taken care of by other family members) are beginning to miss their mom – to have trouble sleeping, with homework, etc. And her mom's needs are beginning to exceed Rosie's skill and comfort.
My grandparents cared for my adult uncles until my grandparents could no longer care for them. My uncles have been in nursing care since. As a result, I've never known them.
I've worked for my boss, a painter in the neighborhood, for a year. I listen to her every day as she fights on the phone for countless hours to have insurance cover in-house care for her 97 year old mother, who lives nearby. Upon finding, finally, coverage plus paying out of pocket, her mother fell getting into bed and broke her hip. She is now in Village Care and is in a lot of pain – in addition her dementia is worsening and putting a real strain on my boss, her 66 year old daughter. My boss has become like family to me and this situation has opened my eyes to the terrifying reality that elderly face in a city so ill equipt to provide for them and their families.
My friend Tyler lives on Rivington Btw Eldridge and Forsyth, with a landlord who harasses him continually. He has a  cavernous angioma and has had a bilateral knee replacement. Tyler grew up in this neighborhood, attended Seward Park HS and has lived in his apartment for almost 40 years. He is just one person who needs Rivington House returned to the community.
Dana Michelle – my little sister.
Peter Luck – ALS patient (living in the UK where austerity has decimated social care system).
I am concerned about loosing [sic] Medicaid wich [sic] would cause me to loose [sic] homecare and return to homelessness.
Joe Hubbard.
Concerned about my increasingly elderly friends and neighbors who might need more than home-based care. Where in the neighborhood will they have opportunity to live nearby so they still have a LES life with same friends?
Our friend and building super for nearly 20 years, someone who has lived and worked on the LES since the 1960's, has been in Rehab facility since October. It is one hour away. We can only manage to visit once a month. If he were in the neighborhood, we'd visit several times a week. Few neighbors/friends (if any) are able to make the trip.
Joe Hubbard, as mentioned. Lots of us as we age and struggled to stay in our community.
Debra G. Brother & mother
Sister's husband has dementia – she is sole caregiver, Joe. Took care of mom for 6 years in a 4th floor walk-up. Nowhere nearby for her to go when needed.
My name is Almado Bryan
I thank at Rivington House for 10 years from 2004 to until 2014 before it was close and I am out of a job. Since so I would like to see Rivington House reopen as a nursing home because people are getten [sic] and needs nursing care and I am looking forward to see it reopen.
I work with older adults with serious mental illness who are connected to Fountain House. Many of our members live all over the city including with Community Access Housing on the Lower East Side. Our population is aging and needs care to stay in their communities where they are valued as contributing members. Unfortunately without adequate home care they are shipped off to nursing homes a nd assisted living facilities far from supports that help them pursue their potential. In nursing homes and assisted living facilities they are often stigmatized and ignored by other tenants and staff. They have little connection to their peers. Connection to their communities and to acceptance is vital. Having a nursing home in the lower east side that is fully accepting of our aging population with serious mental illness connected to community is vital to the wellbeing of the LES.