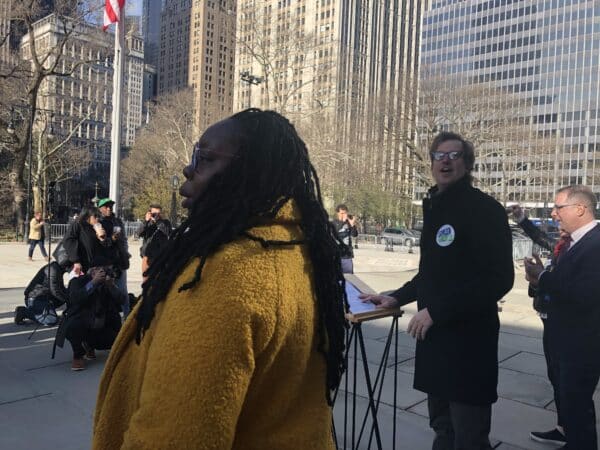 Adam Ganser ED of
NYs4Parks
rallying the troops on March 22nd at City Hall
Play Fair for Parks Budget Rally
It's Time to Fight for Our Parks Budget!
"We've always relied on NYC's parks and open spaces, but over the last two years they've been central to our city's recovery and our collective wellbeing. Mayor Adams committed to funding NYC Parks with 1% of the NYC budget on the campaign trail: "We need to do everything we can to preserve the future generations of New Yorkers the right to these essential parks."
However, his recently released preliminary budget sharply departs from these promises, cutting the NYC Parks budget by $60 million and potentially allowing 3,500 essential NYC Parks jobs (including PEP officers and maintenance staff) to expire on June 30."
In attendance at the March 22 rally were City Council Parks Committee Chair Shekar Krishnan; Council Members Chris Marte, Erik Bottcher, Julie Menin, Eric Dinowitz, Marjorie Velázquez, Althea Stevens, Sandy Nurse and Selvena Brooks-Powers representing the Bronx, Brooklyn, Queens and Manhattan; and Borough Presidents Mark Levine and Antonio Reynoso.
Mayor Adams had previously signed this commitment during his election campaign – then outlined in the New Yorkers for Parks' Five Point Plan for Park Equity – however as Adams announced his Preliminary budget, the previously agreed upon amount was slashed in half.
This decision to allocate only 0.5% to the Park Department would cut $60 million from the proposed budget and potentially put 3,500 essential NYC Parks employees at risk of losing their jobs.
Columbus Park's Karlin Chan, Sara Roosevelt Park's K Webster and many members of the PlayFair Coalition 'parkies'!
The $44 million broke down like this:
$19.1 million for park maintenance workers
$8.2 million for GreenThumb community gardens
$6 million for 80 additional Parks Enforcement Patrol officers
$4 million for 50 additional Urban Park Rangers
$4 million for Forestry Management
$1.7 million to extend the pool and beach season
$1 million for tree stump removal
President of Sara Roosevelt Park Coalition K Webster Rally Talk:
Thank you to all who came to rally.
My name is K Webster and I am with the Sara Roosevelt Park Community and PlayFair for Parks Coalitions.
We have been a park coalition since the early 80's when the neighborhood reclaimed this park from neglect, drug dealing and murder. Two unique gardens were built then: the M'Finda Kalunga Garden and the Hua Mei Bird Sanctuary.
Now, Once again, we face neglect and are the site of murders, assaults and drug dealing with both the housed and the unhoused as victims.
They were all tragic and senseless and none of them deserved to die or be harmed.
For the moment, thankfully, a PEP officer now sits inside our park's senior center with its majority elderly Asian community.
Despite low staffing and a lack of water sources, in parts of our park, Park manager Jamil and his staff do all they can to support the many community members who maintain gardens throughout the park.
An incredible Park's worker, a Latina grandmother, scrupulously cleans half of the park, working alone or with a volunteer. An 87 yr. old African American man sits guarding the playground.  A volunteer for 40 years. Just had a stroke. He's our homeless volunteer's anchor.
A fully funded project to fix doors and windows in that senior center has waited 7 years.
A Parkhouse, promised 30+ years ago for neighborhood use, still sits, despite being in a troubled section that tries to serve 4 ELL high schools, a low -income charter school, NYCHA, Mitchel Lama, and Deaf housing across the street.
Our park is the air conditioning, summer home, vacation rental for families living in tenements.
During the pandemic, to avoid congregate shelters with no PPE, our park paths were lined with people who slept in the park.
Neighborhoods where there's no money need a funded Parks and the collaborative efforts of its workforce and volunteers.
We need to invest in our essential paid Park workforce with good pay, job security, training, and benefits. You are the backbone of parks and should be treated that way.
Staffing is needed to lead on climate mitigation to build our oxygen infrastructure.
In an over-heated city, parks are safety valves in these over-heated times.
Sports, beauty, chances to garden or sit safely, a welcome to everyone, and importantly parks give us chances to meet people we otherwise never would.