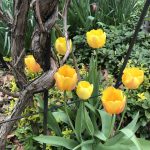 From Play Fair for Parks  Play Fair was Co-founded by New Yorkers for Parks, the New York City Council, the New York League of Conservation Voters, and DC 37, the NYC Parks workers' union
Hi All,
Here's how to advocate for this park and our GreenThumb MKGarden (and all GreenThumb gardens and Parks).
*****************
How to help (From Play Fair):
We're in the final budget stretch. Here's how we need to be active:
**********************
2.
 Join us for another
Play Fair Rally
 on Thursday, May 20
, at 11am, ahead of the final Parks Committee Budget Hearing at 12pm:
Play Fair Rally – Parks Committee Budget Hearing
Time: 10:30 AM –  11:30 AM NOTE TIME CHANGE!!
****************************
3. 
Sign up to testify
 Sign up to Testify: 
https://council.nyc.gov/testify/
final Executive Budget Hearing on Tuesday, May 25
, at
10am
– this will be the last opportunity to let your voice be heard this budget season. Sign up now to testify live or to submit written testimony
*********************
Here are some election advocacy updates.
IMPORTANT PRIMARY ELECTION DATES
May 13: NY1 Mayoral Candidate debate
May 28: Voter registration deadline
June 12: Early voting begins
June 15: Absentee ballot request deadline
June 20: Early voting ends
June 22: Primary Election Day! Vote in person or mail in or drop off your absentee ballot
Here are the ASKS:
In 2021, we are calling on Mayor Bill de Blasio and the City Council to restore essential funds to the NYC Parks department. NYC Parks received the 2nd largest cut of any agency following COVID-19 austerity measures. That reduction of $84 million caused parks to be in the worst conditions on record while demand for them was at an all-time high.
Sign the Play Fair Now petition!
FY22 Budget Platform: $79.8M to Renew and Restore the Expense Budget for NYC Parks
$58M to reinvest in critical Maintenance and Operations
$10M to baseline the FY21 one-shot 100 City Park Worker and 50 Gardener staff lines

$30M to restore the seasonal staff budget for maintenance and operations workers citywide

$3M to restore the Parks Opportunity Program and provide a pathway to full-time employment

$15M to restore critical parks forestry contracts for tree pruning, stump removal, sidewalk repair, and invasive species control
$4M to reinvest in Recreation and Programming – to restore the Parks Equity Initiative and support park stewardship organizations citywide
$9M to reinvest in Parks Safety
$3M to restore the 50 Urban Park Ranger positions created in the FY20 budget

$6M to restore the 80 Parks Enforcement Patrol positions created in the FY20 budget
$7.9M to reinvest in Nature and Resiliency
$3.4M to restore 15 GreenThumb staff and expand access to plant materials, resources, and tools for community gardeners citywide

$4.5M to continue conserving and caring for our natural forests and begin critical improvements for our City's wetlands and trails network