Bob Humber. Still here. Still fighting. Still holding out hope.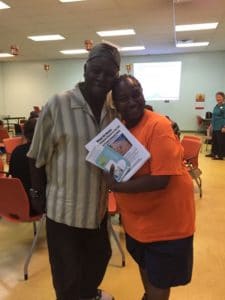 "Two Friends and the fence between them" The Daily News
Juan Gonzalez @juangon68 Tuesday September 20, 198(?)8
Ira Dobrin had been desperate to leave the job for months. Too much work, so much misery on every bench, "so little recognition all for $18,000.
Ira shook hands with Robert Humber across the iron railing last Friday and said goodbye to Roosevelt Park, that long sliver of rundown trees and playgrounds that cuts through Manhattan's lower East Side.
For the last two years Dobrin's job has been to keep the park clean, which is something like being a point man for the rotting of urban America.
"We're gonna miss ya, buddy," says Humber, sprinkles of gray glimmering from the sides of his Afro, his Doberman pacing sentrylike at his side.
Humber is staying because of the kids, because he has no job to lose, and because each of us at some point has to take a stand or the weeds will strangle us all.
About 20 scraggly bodies are scattered nearby sleeping on benches or sipping alcohol out of brown paper bags.
"You wouldn't believe the stink in this park some mornings from urine and feces, especially after a weekend," says Humber, who has lived on the lower East Side for 30 years.
"Some mornings when I come to work every bench is filled with homeless," says the tall Dobrin who sports a beard, wears a blue jean jacket and baseball cap, and has a Walkman draped around his neck.
They wanted me to throw the homeless out of the park," he says with rebel's contempt for his old supervisors, all the way up to Parks Commissioner Henry Stern. "Wake up a homeless man sleeping in a box and say, "You've got to move? Who knows what a person will do?
"They used to have 15 people working this park. I've been the only full-time maintenance man since [?], " he says.
Dobrin lives in Bensonhurst, has a bachelor's degree from Fordham and a wife and three kids to think about.
"Those steps used to be the biggest shooting gallery in the neighborhood," Humber says, pointing to the old park house 20 feet away that has become his battleground. One Saturday last June, junkies killed one of their own in the park.
"The Mexican league was playing, 300 people were watching a game when the shooting started. Any one of those kids could have gotten killed," says Humber, who used to work for the Children's Aid Society.
"I just blew my stack that day. I told some of the fellows: We have to do something about these drugs." Kids and old folks had stopped using the park. The dope fiends had claimed it.
Humber decided to take it back. Every afternoon he sits in the enclosed area near Stanton and Chrystie Street and asks the junkies to move. He called it Friends of Roosevelt Park.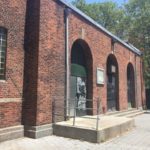 Once he asked a man not to smoke crack on a bench. The guy pulled a gun. "I'm just a concerned person, " Humber told him. The junkie left.
"We don't walk around with clubs or guns. This is not a vigilante-type thing. We ask them in a nice way," Humber says.
The kids have returned. Friday there were more than 50 on the basketball and baseball courts.
"Two of the prostitutes (on Chrystie St.) even brought us books for them to read, " says Humber. He and the kids have built several brightly painted birdhouses.
"I knew most of their fathers. Some are dead now. I enjoy telling them about their dads and what we used to do in the old days," he says. He's posted anti-drug signs on all the trees and painted a big sign: "LET OUR CHILDREN GROW".
Park bureaucrats say staples in he signs are dangerous to the trees, that birdhouses are illegal. They ordered Dobrin to remove the signs, which he refused to do.
Friday afternoon, while the kids played ball and the Doberman stood guard, the rebel and the warrior said goodbye.