Play Fair Coalition from New Yorkers for Parks: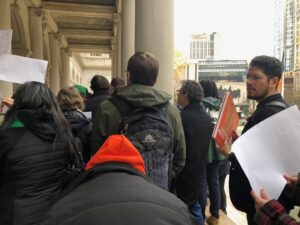 We joined the Play Fair Rally for Capital Reform at City Hall held on December 6th at City Hall, followed by:
NYC Council Oversight Hearing: Improving the Efficiency of Parks Capital Projects
Council members heard testimony on 3 capital reform/parks construction bill proposals. Sara RPCC advocated for these as members of the PlayFair Coalition.
Our Council Member Chris Marte supported these bills!
NYC Council Oversight Hearing: Improving the Efficiency of Parks Capital Projects
BILLS ON THE AGENDA:
T2022-2417 — NY4P has been working with Council Member Shekar Krishnan on this bill, which would require the parks department to create a strategic blueprint to reduce the average duration of capital projects by at least 25%. It will be followed by a second bill that requires all reporting agencies to deliver the same type of plan.
Intro 174 –– Requires NYC Parks to add more detailed information on its capital tracker on the website, including the reasons for delays, the dates projects were fully funded, the total number of projects in its portfolio, projected and actual cost overruns, individual sources of funding and the length of time it took to complete each project.
Intro 680 — Requires DOT, DEP and DPR to survey dead end streets to assess if those areas are suitable for tree plantings and vegetation.
TALKING POINTS:
T2022-2417
The Preconsidered Intro bill would require the Parks Department to deliver a blueprint for reducing parks capital project timelines by 25% — an average of 2 years.
The Preconsidered Intro bill is focused on the parks department as a first step. But a similar bill should be passed that requires the same blueprint from all capital agencies.
We need our parks repaired and built more quickly and inexpensively so New Yorkers have access to these critical spaces.
We need our parks project to cost less to put that saved money towards badly needed operations and maintenance.
NYC's parks system has been underfunded and inequitably funded for 40 years.
The mayor can start to fix that now by delivering on his promise to dedicate 1% of the budget to NYC Parks
Intro 174
Adding more detailed information to the parks capital tracker will make it a more accessible and useful tool for the parks department and park stewards to fully understand the delays associated with projects.
This additional detail will ensure NYC Parks capital expenditures reporting is updated in real time with sufficient detail for the agency and its partners to evaluate pain points and progress toward a more efficient system.
Below: CM Marte, SRPCC member Sandy Pliego, Union members, CM Krishnan addressing the rally.