A beautiful weekend Sunday, Halloween, bulb and tree stump removal and new tree planting, live gorgeous music by the Eric Paulin Quartet and the Judette Elliston Trio (thank you FABnyc), plans to move forward with activating the Stanton Parkhouse, Free Store Face-painting, Labyrinth-making, Halloween art-making, Stanton CSA info, neighbors and local non-profits meeting and working together to make the day go well.
And…
A warm and gracious welcome from our local neighborhood-raised Park advocate Council Member Chris Marte (or was that Julius Cesar?) and our local community to our vibrant, well-informed, new Manhattan Borough Park Commissioner Anthony Perez!
With words of encouragement, promise and excitement for a new phase of community partnership!
Favorite comment of the day: "This is so much fun"
Thank you to our Task Force members FABnyc and the Eric Paulin Quartet and the Judette Elliston Trio, University Settlement and their artist and crafts -maker, Sara Roosevelt Park Coalition, GreenMap, and Pratt. And the countless volunteer efforts of this community like  Stanton CSA, Myles' FreeStore face painting arts, Diane Carulli's Labyrinth, Urban Park Ranger (off-duty volunteer), Steve Elson, Allen/Pike Volunteer Gardener Justen Ladda, M'Finda Kalunga Garden, Neighbors to Save Rivington House' long-time activists Lisa Kaplan and Harriet Cohen, and Buro Happold, and Marvel our pro-bono architects and engineers vis a vis FABnyc!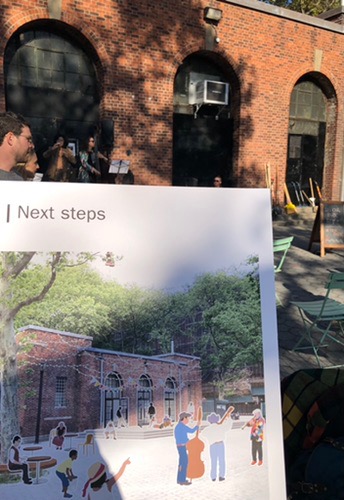 We could have this here.
Take a look at what we got to do:
The day starts with NYCParks Staff dropping off supplies from Partnerships for Parks set up with our partners and volunteers.
The planting of a new tree in the Tree Pit here!
By the determination and energy of Keena Suh (Pratt Design School Professor) the steady hard labor and effort of Jake (volunteer-for-the-day) who broke through the cement-like tree pit surface (with the help of composer/musician Steve Elson), and the expertise and commitment of Daniel Tainow (off-duty Park Ranger volunteer) and help from our newest "volunteer" Park Commissioner Perez.
Check out that old busted tree stump!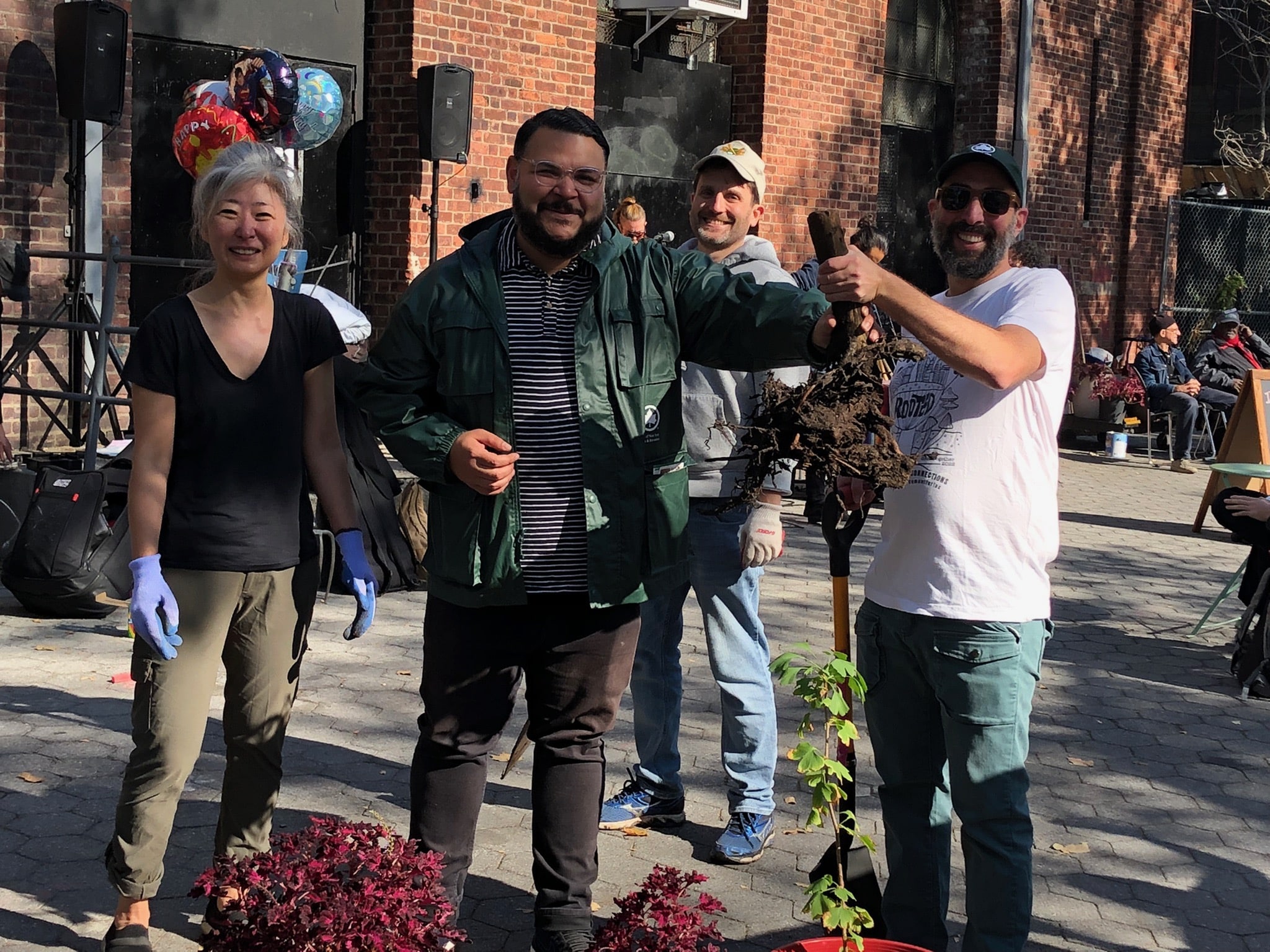 and the 'back'-story:
Long, long, long time Park advocates Bob Humber and Jim Pender