With thanks to Borough President Brewer and to Council Member Chin and to the NYC Parks Department.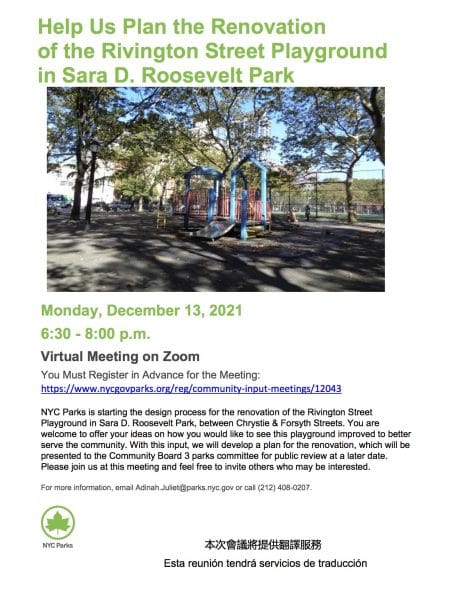 From: NYC Parks "is inviting the community to participate in the design process for the renovation of the Rivington Street Playground in Sara D. Roosevelt Park between Chrystie & Forsyth Streets by attending a virtual meeting on Monday, December 13, at 6:30-8 p.m.  
You are welcome to offer your ideas on how you would like to see this playground improved to better serve the community.  With this input, the Parks Department will develop a plan for the renovation, which will be presented to the Community Board 3 parks committee for public review at a later date. If you want to help improve this playground, please join this meeting and feel free to invite others who may be interested.
You must register in advance for the meeting:
https://www.nycgovparks.org/reg/community-input-meetings/12043
This project has been funded by:
Borough President Gale Brewer and Council Member Margaret Chin.
We hope you can join us."