From Katie Leung, NYC Parks, Wildlife Unit:
Hi Everyone,
I hope you all enjoyed the sun and warm weather over the past couple of weeks. 
Based on several monitors' observations, American kestrels are being seen close to where they may nest for the year. Usually, they like to nest in worn-out cornice or rooftop cavities (holes), particularly on low-rise buildings. If you look for kestrels, you won't be able to see the actual nests, but you may see the birds perched on nearby trees or other structures or enter through a specific spot in a building on a consistent basis. If you find a cavity, look for indicators such as whitewash (droppings) or loose feathers. 
Furthermore, many red-tailed hawks are still in the process of nest building, while a few have begun to incubate this week.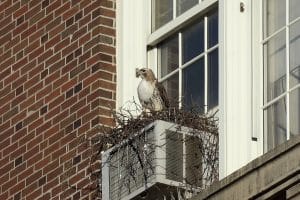 Photo credit: Jim McNamee, Brooklyn
Finally, here are the details for the upcoming Scouting Day.
Saturday, April 3rd, 10:30 a.m.
Van Cortlandt Park, Bronx 
RSVP to katie.leung@parks.nyc.gov and sunny.corrao@parks.nyc.gov for meetup location.
Street parking is available. For public transit use the 4 train.
*If you are comfortable scouting on your own (or with a friend) you will be assigned a section of the park to walk through. We will also form a small group to walk together. Please let us know your preference when you RSVP. We will be following health and safety guidelines. Masks must be worn while together. Please bring your own tools to scout (binoculars, notepad, camera, etc).
Hope you can join us then, and we look forward to meeting some of you there!
Cheers,
Katie Leung 
NYC Parks
Wildlife Unit