Sad day our community.
NYT: "Another New York Diner Turns Off the Grill, a Victim of Rising Rents"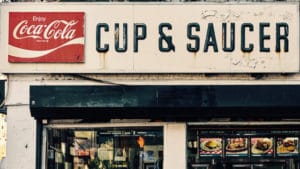 "John Vasilopoulos and Nick Tragaras stood before an assembly line of egg sandwiches. Mr. Tragaras slid the eggs and bacon from the griddle onto the buns as Mr. Vasilopoulos followed to wrap and stack.
It was a familiar rhythm for the owners of Cup & Saucer, a diner on the eastern edge of Manhattan's Chinatown. But on Monday afternoon, after more than 70 years, the clink of metal spatulas flipping eggs and bacon will quiet for the last time as Cup & Saucer closes its doors.
"We really care about every customer who comes in; we get involved with them," Mr. Vasilopoulos…..
….The owners plan to take the summer off to regroup and possibly look for another space.
"We have to do something," Mr. Vasilopoulos said."
We hope so!