A GREEN PUBLIC WORKS PROGRAM FOR NYC: 40 IDEAS FROM EXPERTS
Full plan here
A Green Public Works Program for NYC: 40 Ideas from Experts To understand how New York might take advantage of federal investment to create jobs and help the city mitigate and adapt to the effects of climate change, CUF asked city leaders in coastal resilience, environmental justice, urban agriculture, renewable energy, and more for sustainability and resiliency project ideas. by Laird Gallagher, Safiyyah Edwards, Cameron Haas, and Jonathan Bowles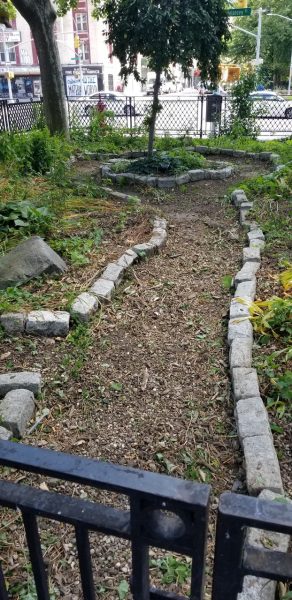 Some of the ideas include:
Construct stormwater storage structures in low-lying neighborhoods
Deploy a climate corps to install energy retrofits
Develop "Ecohubs" in every NYCHA development
Create green jobs through resilience retrofit certifications
Build energy resilience through community solar
Convert vacant storefronts into temporary hydroponic food production facilities.
Boost green roof installation, starting with city property
Design and distribute curbside organic waste containers
Protect coastal communities and infrastructure by investing in wetlands restoration
Build floating farms on barges in NYC waterways
Jeffrey Raven
Principal
RAVEN A+U
Build a network of energy hubs
The city should build neighborhood energy hubs to store energy in large-capacity smart grid batteries, and secondarily act as recharge stations, bike storage, drop-off centers, civic spaces, or last-mile freight hubs. Placing energy hubs throughout New York City's neighborhoods would not only build energy resiliency within communities but act as colorful and aesthetically important symbols of each neighborhood. These colorful iconographic structures would be designed to reflect New York City's neighborhood identities and needs, instantly becoming 21st century icons on the urban landscape.
Pat Sapinsley
Managing Director of Cleantech Initiatives
Urban Future Lab, NYU Tandon
Repurpose public land into renewable power plants, microgrids, and energy storage
Replacing fossil fuel-based power plants with renewable energy plus long duration energy storage facilities has been shown to result in significant cost savings in healthcare as well as job opportunities for the surrounding communities. Rikers Island is especially well-suited for this conversion, and has growing support as evidenced in the Renewable Rikers Act.
Clare Miflin
Founder
Center for Zero Waste Design
Develop neighborhood-scale composting infrastructure
Equipment in large buildings can reduce odors, pests and the volume of organic waste by up to 90 percent, making it easier for understaffed and space-constrained buildings to manage. Investments in local composting infrastructure can increase processing capacities greatly, and excess organic material could be returned to the regional farm system.
Hildegaard Link
Chair, Resilient Red Hook
Director, Sustainability, SEBS Rutgers University
Build energy resilience through community solar
Neighborhoods served by above ground power lines are especially vulnerable to extreme weather. Constructing a microgrid powered by community solar would allow the neighborhood to power residents, businesses, and essential public services during emergencies that often plague the low-lying, coastal communities like Red Hook. Constructing a community grid of solar energy sources would also work to unify neighborhoods. A community solar grid could help to foster a shared sense of ownership within the neighborhood and also respond to the unique needs of local small businesses.
Hana Kassem
Principal
Kohn Pedersen Fox
Revise East Side Coastal Resiliency Plan to leave park intact
The current East River resiliency proposal calls for raising the majority of the park above the 100-year flood plain, but that requires cutting down many of its trees and the phased decommissioning of large portions of the park. But given how vital the park is to multiple neighborhoods for exercise, social gathering, and informal cultural activities, especially during Covid-19, it may be worth revisiting the earlier version of the plan, which left most of the park intact by creating a flood barrier wall with flood gates along the east side of FDR. This resiliency strategy could be taken up again for the majority of the park, thus saving the park trees and maintaining its accessibility in some form during construction.
Reconfigure flood protections under FDR Drive to provide new, Covid-safe uses
What if we rethought the underbelly of the elevated sections of the FDR to become a series of raised outdoor covered rooms that allowed for a variety of safe uses? These raised platforms would be combined with barrier walls and flood gates, positioned astutely to provide the necessary flood protection. To extend their use into the colder months, these outdoor rooms could be outfitted with solar-powered outdoor heaters and lighting. This large-scale project would foster social interaction and community spaces, boost the local restaurant and retail industries, reignite the city's cultural life, promote health and wellbeing, all while addressing resiliency, sustainability, wellness and creating jobs.
Justin Green
Founder and Executive Director
Big Reuse
Construct reuse centers in every neighborhood
Material reuse can both help the environment and create local economic growth. Instead of buying a dresser that was made in another country from recently cutdown trees and shipped around the world—we can reuse locally. In addition to the initial labor needed to build reuse centers, these facilities can create jobs for workers to manage and operate the facilities. Reuse and repair centers not only keep materials circulating within the community; they also keep the money exchanged for goods, repairs and refurbishment within the local economy, too. In the long term, these centers also encourage sustainable shopping behaviors. Reuse centers can create jobs, keep materials out of the landfill and become close to self-funded with some additional support for transitional workforces.
Repurpose portions of public space & parkland into community composting sites
Constructing composting sites would generate jobs not only from site development but from running the pickup and composting programs. This will encourage local composting and generate compost to divert materials from waste streams going to landfills.
Paul Gallay 
President and Hudson Riverkeeper
Riverkeeper
Invest in community-driven, nature-based coastal resilience projects
With sea levels rising, New York City must support community-driven, nature-based solutions for coastal resilience. Rather than focusing on expensive offshore storm surge barriers, the city should construct onshore environmental infrastructure such as berms, living shorelines, salt marshes, and wetlands which provide cheaper, more adaptable, and less ecologically destructive protection against sea level rise. Projects such as stormwater retention gardens and salt marsh restorations have already been successfully completed in other northeastern cities like Boston. Native plants and trees that can survive both dry and flooded conditions should also be prioritized in coastal communities. A workforce tasked with plant stewardship can be responsible for the long term care of these plantings. In designing and executing these climate-smart projects, front-line communities should be central, especially historically disempowered and BIPOC communities.
Candace Damon
Vice Chairman
HR&A Advisors
Support maintenance projects
The default progressive response to economic downturn is to invest in capital projects that can be advanced quickly and that address other contemporary policy priorities—today, resilience, climate adaptation, and equity. Virtually by definition, however, shovel-ready capital projects are those which have already been funded; directing stimulus funds to them replaces one source of funds with another.  While New York City should certainly welcome any expansion of its investment capabilities, the shovel-ready projects for which there is no other source of funding, indeed for which there is vastly diminished funding, are maintenance projects.
I would prioritize restoration of parks—despite being, as always, the first operating budgets cut, parks have once again demonstrated their value as critical infrastructure—and clean and efficient energy projects, including weatherization of homes and tune-up of building systems. But we should also support repair of major infrastructure, operating subsidies to strengthen regional food distribution and launch local agriculture, and a host of other maintenance projects that can be initiated within weeks of funding. These projects will all renew the aims of the Civilian Conservation Corps, this time ensuring that women and Black men get equitable access to jobs that are both less likely to be automated in the near term and offer career ladders.