We are sad to see Annie go but thrilled that she is following her dreams. Good luck in Kaua'i!
Annie was our President for the astonishing renovation of the Sara Roosevelt Park at Hester Street. The IS 131 children's tiles you see on the sides of the Playground are there because of her generosity, determination, diplomacy and artistic sensibilities.
We look forward to working with Dylan, her very able partner in HSC's efforts these many years.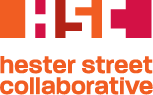 Dear Friends and Colleagues,

As many of you know, after 12 fulfilling years, I am transitioning from Hester Street Collaborative and moving to Kaua'i. Today is my last official day at HSC!  I'm incredibly grateful to have been surrounded by so many inspiring, talented and dedicated individuals. I can't thank all of you enough for your hard work and partnership over the years.

Dylan House will serve as Interim Director while our Executive Search process is underway. Please direct any inquiries to him at dylan@hesterstreet.org.

Aloha nui loa,

Anne Frederick