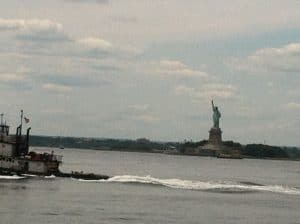 "Instead, Cuomo announces $200 million for water treatment systems"
From Times Union:
ALBANY — New York's Drinking Water Quality Council will need more time to review new science before recommending limits on federally unregulated contaminants in New York's water sources.
The 12-member council, created in September 2017 and overseen by the state Health Department, was tasked with creating recommendations for maximum contamination levels for chemicals including PFOA, PFOS and 1,4-dioxane in drinking water by the one-year anniversary of its first meeting.
In lieu of the report, Gov. Andrew M. Cuomo's office instead announced $200 million in grant funding for filtration systems and infrastructure to help communities address the emerging chemicals that have wreaked havoc on Hoosick Falls, Newburgh and Long Island, among others.
A coalition of environmental activists, including residents of Hoosick Falls, gathered at the state Capitol last week to call on Cuomo to immediately establish more stringent state guidelines for the toxins.
While new filtration systems are helpful, they are no replacement for comprehensive screening requirements and lower limits on contamination levels, according to Liz Moran, water and natural resources director for Environmental Advocates of New York.
"This funding is a sidestep," Moran said of the governor's announcement. "Statewide guidance is, frankly, the first step to addressing this issue. And the fact that it's taking this long is very curious."
Moran noted that other states had surpassed New York in efforts to protect citizens from these chemicals. Vermont has already created limits on PFOA levels, and New Jersey has released recommendations for maximum contamination levels.
Of the grant funding awarded on Tuesday, $185 million will be available to communities across the state to upgrade drinking water treatment systems. The remaining $15 million has been awarded to communities already pursuing system upgrades and innovative pilot technologies to treat the emerging contaminants.
While advanced treatment systems require operational maintenance, carbon filtration like the systems that are currently in effect in Hoosick Falls can filter out these chemicals to undetectable levels, according to health officials.
Perfluorooctanoic acid (PFOA) and perfluorooctane sulfonate (PFOS) have been used to make carpets, clothing, fabrics for furniture, paper packaging for food and other water-resistant materials. The solvent 1,4-dioxane is used in a variety of industrial and commercial applications, such as in the manufacture of other chemicals, and in adhesives and sealants.
All three have been linked to various maladies in humans, including several forms of cancer.