Current Neighborhood Issues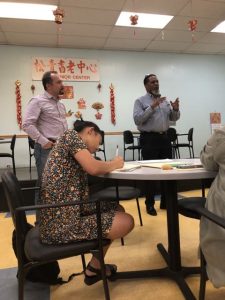 with the MTA project:
We appreciate the MTA's coming to meet with the neighborhood and with other affected agencies. It helps to struggle through together on this very disruptive and difficult project with some sort of cohesive effort. We thank Council Member Chin's Gigi Li for her stalwart efforts to organize these meetings.
And.. the Coalition was very grateful for the MTA's permission for a local high school to chalk for the UN Climate Summit week and the MTA even had the contractor repaint it for us – very much appreciated.
Despite the best of intentions however, the  MTA project has been hugely disruptive and even dangerous at times.
The fencing used near Delancey Street on Forsyth Street created a blind alley in which two attempted assaults took place, hard drugs were sold and used, sex acts performed (not great for the families with small children finding them in progress!)
Elders were threatened and buildings doors and a small business' windows were smashed.
That small business is struggling due to being hidden behind a wall and the unsavory goings on in front of it.
The community garden adjacent was overrun with rats because the contractor/MTA didn't abate (as legally required) before the project began. (And, the rats will get far worse when they do the dig alongside the garden) – planting beds had to be smashed and rebuilt and rat abatement is now constant – no one wants to be in the garden in late afternoon.
The MTA was forced to remove all the trees alongside the park to great upset from the neighborhood some were saddened by the loss of "transplantable" trees.
The community has to constantly harp on the unsafe traffic conditions the MTA job has set up.
A plywood wall was put up a few months ago that abuts Sara Roosevelt Park as a barrier for the MTA's staging area for their new ventilator for the subway. The wall creates another 'alley' between the street and the fences enclosing the park's soccer fields across from housing for our deaf neighbors and the NYCHA housing complex. We've asked for a safety plan that might include gating that area.
This park's neighborhood is already struggling: one murder last year in the park, assaults in the park and on Forsyth/Chrystie Streets, a homeless population that numbers 40-60 a night in summer (many of whom help us out but some very troubled). The lighting is too dim.
We've been extremely "understanding" as a community because we know this needs to be built, but it has been a lot of unpaid hours and effort for very slow and messy results.
We are looking for solutions to help answer (or at least mitigate?) the neighborhood's understandable upset and anger over the start of this projected four year undertaking.