We heard from The Hort on their ongoing gardening efforts with a terrific group of local Emma Lazarus High School students. This time they worked all over Sara Roosevelt Park. Thanks to Council Member Chin who helped fund these activities here!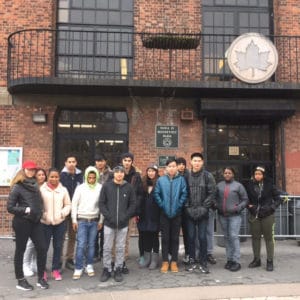 "It rained intermittently, but nonetheless, we persisted.  It was a good day. We planted 40 perennials yesterday and weeded 3 trash bags!  The Irises are blooming and the lemon balm is back!  We cleaned up the cherry tree and the euonymus topiary… trimmed the tulips…hacked at the daffodils.  We chipped away at the compost pile, but I fear that we were too tired to get more than a handful of wheelbarrows!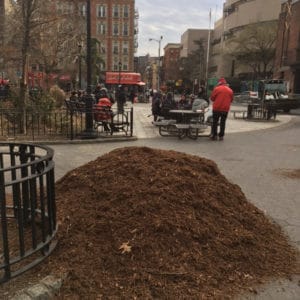 Here are some pictures here of our fall activities (most of which didn't occur in "our plot").  We worked with the gardener down [near] Canal Street to spread piles and piles of mulch. Some students also scraped and painted lampposts.   We also planted paperwhite bulbs for the seniors and have a very sweet visiting day.
We will bring the Emma Lazarus High school group by the plot two more times before the end of the school year.  Will focus on watering and maintaining the plot and finishing our fall tree map project.
Water is still a huge concern."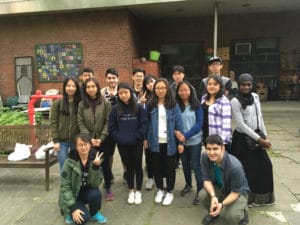 Pam – The Hort