Congratulations to the Parks Department for getting these done on time and quite beautifully.
Thank you to the Manhattan Borough President and Council Member Chin and Community Board 3 for their steadfast support both financial and political.
It might be two or more weeks before they are available to the public but very glad to have the Park area back for park use hopefully by springtime.
And..eager to move forward to reclaim this building for community use for recreation equipment, community space, resiliency and emergency hub and so much more!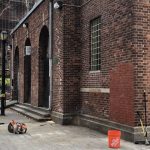 CAPITAL IMPROVEMENTS NEEDED:
Return of the Stanton StoreHouse to active community use creating an engaging and safe hub for all who use the park.
1) Programming coordinated by University Settlement in partnership with the Stanton Bldg Task Force, community partners and residents
 2) Indoors and outdoor activation includes programs in park stewardship, fitness, recreation, 'green culture' and education
 3) Highlights:  Daytime workshops, after-school youth programs, evening community meetings and more 

Flexibly equipped with storage for gardening and recreational equipment, emergency communications. 
All SDR Park Coalition goals here.