From Bedford & Bowery: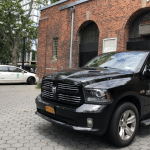 "…Hamilton Clancy, artistic director of the non-profit that runs Shakespeare in the Parking Lot, bemoaned the potential loss of their performance space at the parking lot managed by the Clemente Soto Vélez Cultural and Educational Center. His efforts to find a second home for the theater company in Sara D. Roosevelt Park had been met with bureaucratic red tape. All hope seemed to be lost.
"…K Webster– president of the Sara D. Roosevelt Coalition, which has tried to bolster community use of the park– heard Clancy speak at the community board meeting and volunteered to assist with outreach to the department. Of Clancy's efforts to secure space in the park, Webster said, "What ensued was a bureaucratic dance that took too much time – especially since it had to happen quickly to get the performance up and running in the park…"
…Council Member Margaret Chin's office also offered support to Clancy in his outreach with the department. Clancy told Bedford + Bowery that executive leadership of the Clemente—including Tim Laughlin as chair of the Clemente's board of directors and Baltsar Beckeld as interim executive director of the Clemente—were responsible for bridging the impasse between the two parties."
In the meantime, the company promised to try to come next year. Park's Department willing.