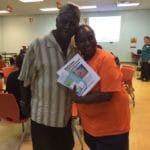 From DNAinfo:
"American Sign Language interpreters and tablets with video-based interpreting will be provided to officers in the East Village, Jackson Heights and northwestern Staten Island as part of the program…
"This has been a long-standing issue. It's been a long road to even get to this point," Antony Gemmell with New York Lawyers for the Public Interest told DNAinfo New York….
Several DHH people have sued the NYPD in recent years.
If an interpreter is not available, police will be able access an interpreter service through a video program on their tablet…"