Here's an article about city pools. We used to have at least two wading pools in this park!
"…Swimming.
Most of the city's public pools are open until Sunday, Sept. 10.
You can look for a location nearest you here. But before jumping in, here's a little trivia on our city's pools:
Before there were pools, we had public baths.
The city opened its first municipal bath in 1901 at 326 Rivington Street — a bathhouse that became so coveted that during a fatal heat wave a few years later, a small riot broke out in the long line there. The site, later renamed the Baruch baths, is no longer in use, though the building remains.
But several of the city's former bathhouses are still up and running — in the form of swimming pools. [several] …recreation centers "all began life as bathhouses," said Liam Kavanagh, the first deputy parks commissioner…
In the 1930s and 1940s, under Mayor Fiorello H. La Guardia, Robert Moses created a new set of outdoor pools that, with their heating and filtration systems, were considered at the forefront of engineering.
…The city's free public pools are open from 11 a.m. to 7 p.m. (Mini-pools will close on Labor Day.)"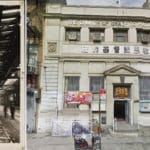 From Curbed NY and The Tenement Museum: Allen Street Bath
"The last man standing of New York's municipally funded baths, the Allen Street Bath provided its visitors with opportunities for relative cleanliness until 1975. The building's fate seemed doomed when it was sealed in 1988, but 1992 brought a new lease on life when it was auctioned off to a Chinese congregation, the Church of Grace to Fujianese, which still uses it today."