For Valentine's Day Love Your Park…
This Thursday, February 14, 3:00 pm
SDR Park Outside the Stanton Street Building, corner of Chrystie & Stanton streets.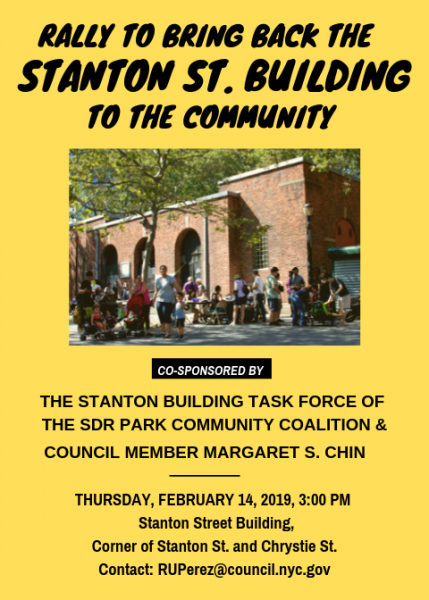 COUNCIL MEMBER CHIN AND ACTIVISTS TO RALLY TO BRING BACK THE STANTON STREET BUILDING TO THE COMMUNITY
WHAT: On Thursday February 14th, Council Member Chin and the Stanton Street Park Building Task Force of the Sara D. Roosevelt Park Community Coalition, which includes University Settlement, Green Map System, and FABnyc, will rally to bring the Stanton Street Building back to the community. For 30 years, the Stanton Street Building has been out of public hands. It is time that the residents of the Lower East Side have access to this building. 
###
Rush Perez
Communications Director
Council Member Margaret Chin
Council District 1
O: 212 788 7259
C:646 592 0499