Honored to be recognized by GreenThumb and the Mayor's NYC Service Program.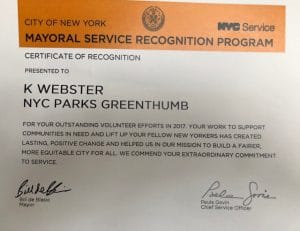 We work diligently and joyfully (mostly!) to make Sara Roosevelt Park beautiful and functional. Some of us are paid. Some of us are not. But all of us have a goal of creating a safe, enjoyable, vibrant, unique, sustainable and alive community green space that has a welcome for everyone and an expectation of treating each other and the natural environment with respect. We  believe in a shared public and government responsibility, ownership and stewardship.
We have many obstacles to work out and much to learn about building agreements that help NYC parks remain one of the few truly democratic spaces left in our City.
K Webster
SDR Park Coalition