From us:
Our Sara Roosevelt Park was inaugurated by President FDR October 1936. He stood in this Park reminding the neighborhood and the public he commended the immigrants to America for their contributions to American civilization and culture.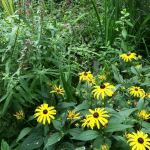 From Hand In Hand -The Domestic Employers Network:
Inviting you to join these actions this coming week.
"1. Adhikaar for Human Justice and Social Rights["rights" in Nepali] is working with a group of NYC organizations, unions and TPS [Temporary Protected Status] holders to hold a  press conference/rally at NY City Hall on Monday at 1pm.
The Journey for Justice, a caravan of TPS holders from different countries and their families, has been traveling since August 17 across the country, over 50+ cities, and will be making a stop in NYC on Monday. If you are in the area and can come out to support and welcome the caravan, that would be amazing!
Especially in light of the unprecedented legal victory on Wednesday night when a Federal Judge ruled to temporarily halt the termination of TPS for Sudan, Haiti, El Salvador & Nicaragua, this is definitely a moment you want to be a part of, especially if your organizations have members with TPS.
2. ICE Out of the Courts Speak Out:  Thursday, Oct 11, 5pm Foley Square.
Petition delivery: Thursday, Oct 11, 4pm, NYS Chief Judge Janet DiFiore's office 25 Beaver Street.
Organized by DSA Immigration Justice Working Group
"In April WNYC reported that ICE had made 150 arrests in and around NYS courthouses since Trump took office, most of those New York City.  Arrests have continued unabated since then. The huge increase in courthouse arrests since 2016 is an attack immigrants' lives, livelihoods, and access to equal justice. Courthouse arrests keep undocumented immigrants from reporting domestic abuse and landlord harassment, and deter them from appearing for minor charges. Even as public outcry has grown in response, city and state officials have done nothing to stop ICE from entering the courts, exposing the lie of our so-called "sanctuary city."
Join us Thursday, Oct 11 at 4pm at 25 Beaver St to deliver thousands of petitions calling on Janet DiFiore to take action to end ICE's courthouse arrest. Then come to Foley Square at 5pm for a Speak Out."