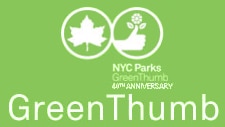 July 14, 2018 from 11:00 a.m.-3:00 p.m. (rain or shine)
Over 70 community gardens across New York City will open their gates this Saturday and offer free activities to the public. Visit Open Garden Day NYC for a list of participating gardens and find one near you!
M'Finda Kalunga Garden will be Open. All other Sara Roosevelt community stewarded Gardens are "open" year round.
Fun in the Garden
Enjoy a wide-range of free activities offered during Open Garden Day on the 14th. You can tap into your creative side by making art, relax while listening to some music, or skip the gym and do some work in a garden instead. Even though school may be out for the summer, there's are always time to learn something new, especially on Open Garden Day! There will be cooking and compost demos, garden tours, and informal classes about bees, chickens, and gardening. Plan your day by visiting the Open Garden Day NYC Map to find out the activities each garden will be offering.