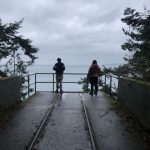 Good News:
The Guardian: Nestle's loses bid to privatize water:
"'Who owns the water?' – in this round, the state and public do, because selling containerized water for profit is simply private, not public"
"Michigan's second-highest court has dealt a legal blow to Nestlé's Ice Mountain water brand, ruling that the company's commercial water-bottling operation is "not an essential public service" or a public water supply.
The court of appeals ruling is a victory for Osceola township, a small mid-Michigan town that blocked Nestle from building a pumping station that doesn't comply with its zoning laws. But the case could also throw a wrench in Nestlé's attempts to privatize water around the country."
"What this lays bare is the extent to which private water marketers like Nestlé, and others like them, go [in] their attempts to privatize sovereign public water, public water services, and the land and communities they impact," Olson said.
Several Native American tribes and the environmental attorney Ross Hammersley are challenging the permit in state administrative court. Hammersley told the Guardian the appellate court finding that Nestlé is not a public water source could help in his case, as could remarks about the company's impact on the water table.
"[Nestlé] extracting water and sending it to other places where it cannot return to the water table, and, critically, doing so faster than the aquifer can replenish, is an 'irretrievable' depletion unless the pumping is reduced or halted," the judges wrote."
The Nestle motto: "Enhancing quality of life and contributing to a healthier future."
and reality:
"It takes at least 2x as much water to make a plastic water bottle as the amount of water contained in it."
Bad News (though good it is getting more frequent reporting):
NYTimes: "The Amazon is Completely Lawless: The Rainforest after Bolsanaro's First Year"
Mr. Bolsonaro has again voiced an aggressive, nationalistic view of the Amazon, describing the rainforest as a resource to be exploited.
"…for months he has also dismissed Indigenous people's concerns about increasing invasions of protected land by loggers and miners, even as Indigenous groups have pleaded with the government for protection from growing violence.
It was the highest loss in Brazilian rainforest in a decade, and stark evidence of just how badly the Amazon, an important buffer against global warming, has fared in Brazil's first year under President Jair Bolsonaro.
"Deforestation and fires have always been a problem, but this is the first time it has happened thanks to the discourse and activities of the federal government," said Marina Silva, who as environment minister in the mid-2000s cracked down on illegal activity in the Amazon, contributing to an 83 percent fall in deforestation from 2004 to 2012."
The furor reached such a pitch that Brazil's businesses became worried about the potential impact. "Did we have our image harmed? Yes. Can we recover it? Yes. The government has to align its discourse to what the world wants," said Blairo Maggi, a billionaire soybean producer and former agriculture minister known as the Soy King.
"The farmers, associations and industry will have to redo what has been lost," he said. "We retreated 10 steps; we will have to work to get back to where we were."
The push into the Amazon has also been driven by demand from abroad. Every year, Brazil exports nearly 15 million tons of soy, much of it to China, and more than $6 billion worth of beef — more than any other country in history. Cattle ranches account for up to 80 percent of deforested land in the Amazon, according to the Yale School of Forestry and Environmental Studies.
Major beef and soy firms have been fined millions for buying commodities sourced from illegally deforested land, but such rules have proved difficult to enforce.
From January through July, deforestation and fires in the Brazilian Amazon released between 115 and 155 million tons of carbon dioxide emissions…
"Deforestation data for the last three months also shows a very sharp increase," said Mr. Nobre, the climate scientist.
Scientists also warn that decades of destruction have brought the forest close to a tipping point, in which lower rainfall and longer dry seasons would turn most of it into savanna.
According to research by Mr. Nobre, the tipping point will likely be reached at 20 to 25% of deforestation across the Amazon basin — or even sooner, depending on the rate of climate change. There is no accurate measure of deforestation across the nine countries containing the Amazon, but many researchers believe about 17 percent of the forest has been lost already.
Whether this year's figures represent an acceleration of that process or an exception to the trend will only become evident next summer, when the dry season returns."