NYTimes, David Gonzalez: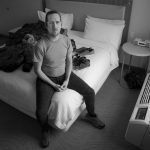 David Gonzalez/The New York Times
"I have nothing," he said. "Whatever I have is to be shared. We know struggle. To be in a bad way. But I always try to help people get something, even if only for one day. Tomorrow is another story."
Rafael Ocasio Barreto refused to leave Puerto Rico after Hurricane Maria tore through his part of San Juan…He soldiered on for two weeks… Finally, his friends forced him — wearing just the clothes on his back — to get on a plane to the States.
The Federal Emergency Management Agency resettled him at a suite motel in Queens…plump winter coats and new sneakers are piled atop the bed. The kitchen is stocked with food. Just as he cared little for material possessions in Puerto Rico, these items are not for him, but to share with other uprooted Puerto Ricans also staying at the motel as they await the next steps when FEMA stops covering their hotel costs on Feb. 14.
…"In Puerto Rico, even with all its dire needs, you can get someone to help. Here, that really doesn't exist. Here, it's about individualism. You feel the racism. It's not the affection you felt back home. Fortunately, even in this motel, I have found Dominicans, Hondurans and Ecuadoreans who identify with us and extend their hand like a brother nation."
Think we could learn a thing or two from him?