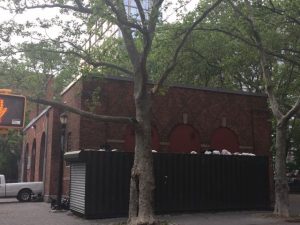 By Sydney Pereira
"Lower East Side park activists embraced a small victory at a Community Board 3 Parks Committee meeting last Thursday…
Bill Castro, the Manhattan borough Parks Department commissioner, told Downtown politicians that Parks is working with city agencies to relocate staff and storage from the Stanton St. building in Sara D. Roosevelt Park, according to Gigi Li, Councilmember Margaret Chin's deputy chief of staff….
…Lower East Side community activists have fought for years to restore the Stanton St. building as a community center after Parks first promised to do so in  1998, or — after Hurricane Sandy — as a resiliency space…"
Read More Here.
Lo-Down: "The Parks Department finally agrees to relocate staff and equipment in the Stanton Street Park building, a modest but important step in returning the structure to the community for local uses."
++++++++++++++
Thanks to Council Member Chin, Borough President Brewer, Senator Kavanagh, Commissioner Castro, Community Board 3 and the neighbors, tenant leaders, small businesses and non-profit organizations who have actively worked to return this Park resource to the neighborhood and NYC's park -going public.
This is what our reimagined Stanton area could be like: