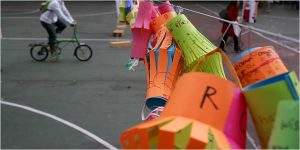 Credit Ozier Muhammad/The New York Times
Gathering Neighbors' Dreams for a Shabby Playground
By Cara Buckley
"If 11-year-old Shuwen Li had her say, which she does, her local playground would be radically different from its current sorry state. It would have swings. It would not smell like urine. Its ground would not be patchy and uneven, nor would it trip up children, twisting ankles and bloodying knees.
Indeed, the Hester Street playground in Sara D. Roosevelt Park, a long, skinny park running through Chinatown, has known better decades. It was built in 1987 with TimberForm, a type of wood once popular in playground making, but which splinters over time. Over the years, as other pockets of the park were overhauled, the Hester Street playground succumbed to the perils of aging, cracking and chipping until it was finally deemed obsolete….
"…All day yesterday, in a peeling basketball court alongside the rickety playground, members of the Sara D. Roosevelt Park Coalition ran a session intended to give locals input and to foster a sense of stewardship over the park. The organizers of the coalition, an association of residents and planners who want to improve the park, also wanted to bring together the varied groups who use it, and nurture a sense of empowerment about their neighborhood.
"This is about community preservation in a neighborhood facing displacement," said Anne Frederick, executive director of the Hester Street Collaborative, a nonprofit group that works on designs for public spaces, and one of the lead organizers in yesterday's event. She said the goal was "for people to think about the park in relation to the larger community as well."
Common themes and ideas will be culled from yesterday's session, Ms. Frederick said, and brought to the table when residents and organizers meet with architects and Parks Department design staff on Thursday.
At the park yesterday, elderly Chinese who stretch and practice tai chi there were polled for ideas about bettering the park. Hundreds of children from Middle School 131, among them Shuwen and her friends, and from after-school programs at the Chinatown YMCA, planted crocus bulbs and built model ideal playgrounds. Elderly members of the Bowery Residents' Committee helped youngsters make paper lanterns.
The lanterns were hung from a wire, where they fluttered like caught butterflies in the chilly wind. On each, the children had written their dreams for the park. "More green," read one. "More beautiful flowers," read another. "More space," read a third.
About 50 feet away, the playground loomed, its clusters of boxy, uneven pillars looking more like an homage to Cubism than a place to play.
"I want it to be not so dirty," said Shuwen, as she made a small swing for her model playground out of pipe cleaners and Play-Doh. "There's too much pollution for kids to play in it. We should, like, hose it down."
Her friend Linda Huang, 11, added, "People use it as a bathroom."
The Sara D. Roosevelt Park is a curiously shaped, heavily used park that traverses several neighborhoods. It stretches from Houston to Canal Streets and is just one block wide, bordered by Chrystie and Forsyth Streets. Forlorn-looking single-room-occupancy buildings overlook it, as do the shining edifices of new luxury apartment towers.
There is a newly built track at the southern end, where the Manhattan Bridge touches down, basketball courts at the north end, butting up against Houston Street, and a world in between. At 7.8 acres, it is the third largest park in the Lower East Side and one of the biggest around for residents of Chinatown, who treasure it because it offers that rarest of commodities in Manhattan: open space.
"Most people who live on Canal Street have very small apartments," said Lin-Mei Juan, 52, speaking through a translator. "This is their living environment, their living community, one of the most important things for them."
The park was created about 70 years ago and fell on hard times in the 1960s and '70s. In the early '80s, a local coalition formed to wrest control of the park away from drug addicts and pushers.
One community activist, Robert Humber, used to circle the park on a bicycle with a whistle around his neck, partly to act as safety patrol, partly to defy the dealers. In 1983, Mr. Humber helped start the M'Finda Kalunga Garden, a lush community garden in the park, named in honor of an African-American burial site discovered nearby.
In the years since, different parts of the park have been renovated piecemeal, and now it is the Hester Street playground's turn.
"The only way that the park really stays taken care of and vital for the community is for the community to take care of it," said K Webster, who is co-chairwoman of the M'Finda Kalunga Garden and helped children plant bulbs at yesterday's event. "This is our Central Park."