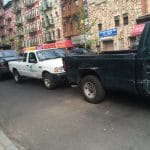 From NY Post:
"The Localize.city real-estate research startup analyzed official data to rank Great Oaks No. 2 on a list of city schools with the most pedestrians and cyclists hit within 500 feet between 2013 and 2017.
From the Localize.city website:
"These intersections had high rates of vehicle crashes injuring pedestrians and cyclists over the past 3 years.
By the numbers:
9 pedestrians hurt
12 cyclists hurt
Intersections hotspots:
Chrystie Street and Delancy Street
Ludlow Street and Rivington Street"
"Parents demanded immediate safety improvements around their kids' schools on Monday, in the wake of a Post report that revealed scores of pedestrians and bicyclists have been struck by cars nearby.
Great Oaks Charter School on the Lower East Side parent:
"Seventy-eight accidents near my daughter's school? Wow, that's unbelievable. I know traffic is bad out here, but that's really bad. The city has to do something."
The city Department of Transportation said it would review the streets flagged by Localize.city with an eye toward reducing traffic dangers."
Not to mention the parking of Parks Department cars and trucks in Sara Roosevelt Park itself?
And still awaiting Pedestrian Xing Signs for two – way bike lane on Chrystie so bikes and cars know to watch out for small children, elders, the blind gardeners, Deaf Housing residents and everyone else!
Good news? It looks like the deaf housing folks may get their speed bump on Forsyth Street to slow the traffic that speeds up the street! DOT approved. Now onto Community Board 3 hoping for approval tonight! CB3 Transportation Committee: Tuesday, May 8 at 6:30pm — The Lee – 133 Pitt Street (at Houston)