From Gotham Gazette:
This has been an ongoing, ever-present debacle for NYC's Parks Department.
or
"Why does it take a decade to build a dang playground in my district?"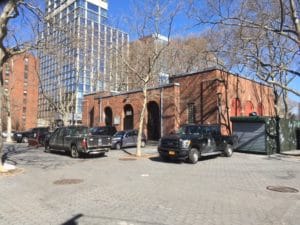 SDR Park's promised return of the Stanton Building since 1994
"As the city grows, New York's ability to effectively and efficiently deliver public capital projects is diminishing. This is no secret. Efforts to improve the system are not bearing fruit; all the while excuses for the delays, cost overruns, and errors become more commonplace."
"A good place to start would be where agencies like the Parks Department often place the blame themselves: right at the doorstep of the Public Design Commission. In the age of data-driven results, it is unclear what the PDC points to as a quantifiable success. To many in city government, it is simply a mysterious all-delaying entity that occupies secluded office space in the rafters of City Hall's cupola, like a project-killing Quasimodo. All Council members have at least one anecdote about construction being delayed by the PDC. But much like the Hunchback, there's a belief that it, too, may be a fictitious tale, and one which the Parks Department conveniently uses to account for any postponement."
It is long past time for the NYC Council and the Mayor to do something about it.