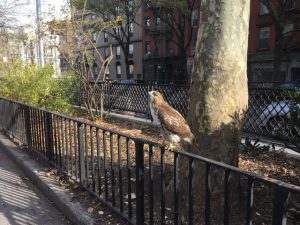 To view close-in photos of birds in Sara Roosevelt Park during the NYC Parks Department's Urban Park Rangers Bird Walk this past Saturday (October 12, 2019) graciously posted by Angus here.
Sapsucker and other birds that inhabit this park unbeknownst to most who walk through it…
Read the lovely article about the walk that accompanies the photos. We especially appreciate this quote:
"It was noticeable that wherever there was a little more variety, there were also a lot more birds.
Nowhere was this more obvious than in M'finda Kalunga Garden, a community garden nestled in the heart of the park. Stepping into the garden was like entering a different world. In place of cracked cement and disciplined rows of London planes, you suddenly found yourself in a modest (but carefully-tended) jungle, with an exuberant riot of different types of vegetation great and small…"
Again our thanks Angus!
Other Bird Sitings in Sara Roosevelt Park: