An original environmental justice advocate.
"Many people are aware of Harriet Tubman's work on the Underground Railroad and as a scout, spy, guerrilla soldier, and nurse for the Union Army during the Civil War. Fewer know of her prowess as a naturalist.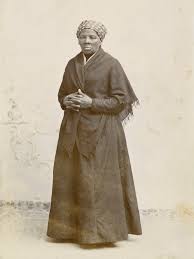 "She used bird calls to help guide her charges, eventually helping some 70 people, including her parents and four brothers, escape slavery."
"… she used the call of an owl to alert refugees and her freedom seekers…the Barred Owl, or 'hoot-owl.'" – Park Historian Kate Clifford Larson, author of the Tubman biography Bound for the Promised Land
Listen to the sounds of Barred owl on the Audubon Society website
"she grew up in an area full of wetlands, swamps, and upland forests, giving her the skills she used expertly in her own quest for freedom in 1849" 
– Kate Clifford Larson
"in…timber fields..she learned the skills necessary to be a successful conductor on the Underground Railroad,..including how to read the landscape, how to be comfortable in the woods, how to navigate and use the sounds"
– Kate Clifford Larson
"Tubman was an astronomer, too"
– Eola Dance, former coordinator for the National Park Service's Network to Freedom program."
Botany proved another necessary skill; people used plants for food and other survival needs.
"Whether it was using certain plant life to quiet babies, or it could be relieving pain or cleaning wounds, this was the type of knowledge that Tubman had"  
– Eola Dance
"…after her Underground Railroad days when she served in the Union Army…Her experience with the waterways she crossed repeatedly while shepherding freedom seekers was essential again."
"Tubman would have had to cross several rivers, creeks, and streams, and that would have been important not only directionally.."
"Freedom seekers would have been tracked by dogs, and by traveling through the water and knowing these waterways, it would have aided them in throwing off their scent so that the dogs would not be able to find them."
– Eola Dance
" the knowledge and skills she had to have,..in order to accomplish the impossible."
– Eola Dance