From Chinatown Partnership and Chinatown BID: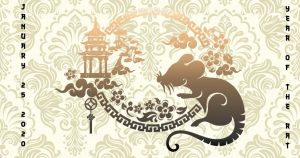 Save the Date: Lunar New Year 
Saturday January 25 2020
11:00 am Sara Roosevelt Park at Grand Street
2020 is the year of the Metal Rat, starting from January 25th, 2020 to February 11th, 2021. The Year of the Rat is the first zodiac sign in the Chinese zodiac cycle. Rats are quick-witted, resourceful, and smart but lack courage. With rich imaginations and sharp observations, they can take advantage of various opportunities well. In Chinese culture, rats represent working diligently and thriftiness, so people born in a Rat year are thought to be wealthy and prosperous.