From Essex Crossing:
ESSEX CROSSING SITE 4
1735 PARK AVENUE STE. 300
NEW YORK, NY 10035
Tel. 212-348-3248 Fax. 212-348-3670
Dear: To Whom it may concern,
Subject: Affordable Housing Open for Applications
Date: _02/13/2020___
We wish to inform you that applications are now being accepted for affordable housing at 180 Broome Street, New York, NY 10002.
Please note that rents and income limits are subject to change and asset limits may apply. In addition, minimum incomes listed may not apply to applicants with Section 8 or other qualifying rental subsidies.
We encourage interested persons to apply online at www.nyc.gov/housingconnect or write to request a paper application and advertisement (see below). Online and paper applications are available in English, Arabic, Chinese, Haitian Creole, Korean, Russian, and Spanish.
Address to obtain paper applications:
Essex Crossing Site 4, Triborough Finance New Station,
PO Box 2003,
New York, NY 10035
Please remember that online applications must be submitted by the deadline date and that the applications received after this deadline date will not be considered. Completed paper applications must be sent to the Post Office Box address indicated on the application, postmarked by the application deadline date. Applicants may not submit more than one application per household.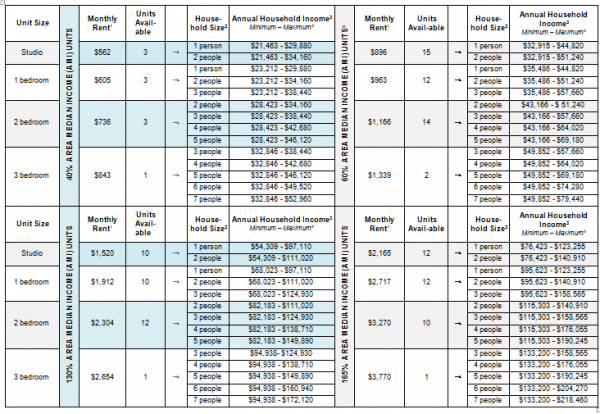 This development also includes 142 market rate apartments. People can find more information on our website www.essexcrossingsite4.com or by contacting essexcrossing@elliman.com. 
Sincerely,
Essex Crossing Site 4 Marketing Team