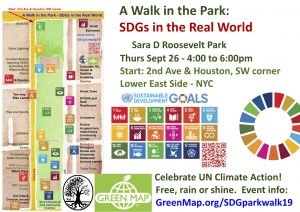 Sara Roosevelt Park and LES local community gathered some of the resources we've created to link with the efforts of the United Nations and the world towards a more sustainable and joyous world.
Nice to notice the depth, compassion and intelligence of decades of those efforts.
Here's who:
Wendy Brawer and Green Map Systems, Tenzer Learning Center, Young people in the park, Urban Park Rangers, BirdLink, Audubon NY, University Settlement, Keena Suh/Erin and Pratt Institute Students, Ray with Bee Honey from 6th St Garden, Nini Mai of Evolve Health & Wellness, Irit Houvras and Rainer of the Stanton CSA (Community Supported Agriculture), Bob Humber of M'Finda Kalunga Community Garden, Lamar, Omar, Uncle working with and for the unhoused, 5th Precinct, LUNGS, Commend, Ted Glass -Turtle wrangler, Sandra Dupal of Ceci Cela, Yamina with Audubon Demonstration Garden,  Sara Roosevelt Park Community Coalition K Webster, Rob Watson ("Father of LEED") of SWEEP, Families for Safe Streets, Peter Meitzler with Citibike, the MTA, Neighbors to Save Rivington House, the NYC Parks Department's Liam Kavanagh First Deputy Commissioner, Mark Vaccaro Regional Manager and the hardworking staff of the NYC Parks Department.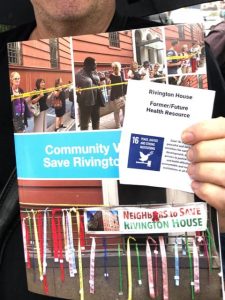 And we now have a new Eastern Red Bud and a Maple Tree gracing our Park!
"The work of the Parks Department is integral to our city's ability to address the Climate Emergency, we are delighted to include a moment to celebrate the start of the LES Community Tree Canopy."
– K Webster, Sara Roosevelt Park Community Coalition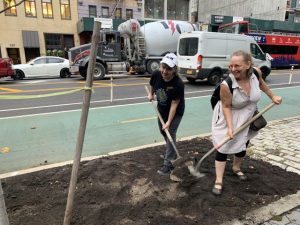 Photos from the day:
"Green Map Icons are now in 65 countries helping people connect with local green living, social justice and cultural resources using the simple tool Green Mapmaking since 1995. With this event, we join the daily work of a local community of a NYC park with the global movement toward the United Nations 2030 Goals for a more human-centered world and the ending of the Climate Crisis"
– Wendy Brawer, Green Map's director.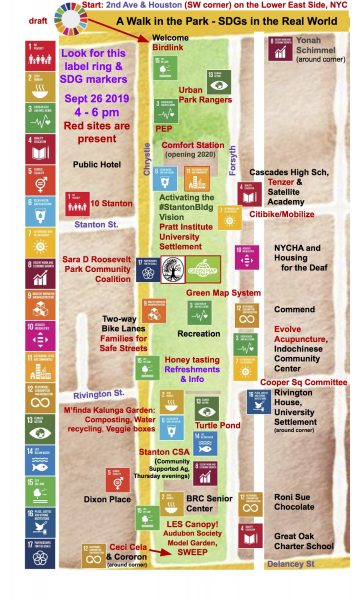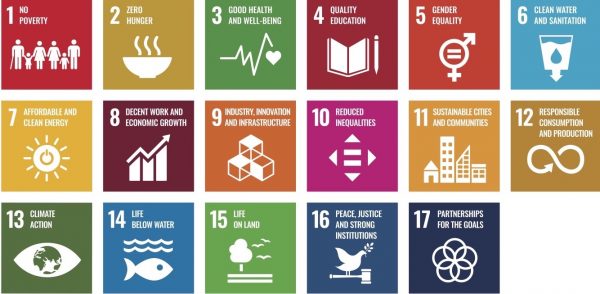 Photos: K Webster, Mailya Muhande, Steve Elson, Marty Pottenger