From Natural Resources Defense Council (NRDC)
April 12, 2019 Larry Levine 
"From 2016 (a relatively dry year) to 2018, the number of days with a combined sewer overflow rose by 44%—from 85 days (as if that weren't enough!) to 122."
Excerpts: For full story Natural Resources Defense Council
"With climate change driving increased precipitation in the northeast, 2018 brought not only one of the wettest years on record in New York City, but also a sharp increase in sewage overflows. For local waterways, and an antiquated sewer system, it showed.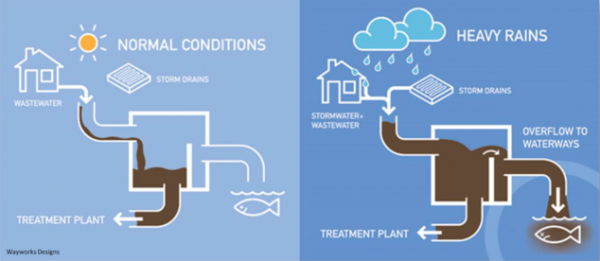 "Recent data released by the state shows that New York City experienced sewage overflows, on average, once every 3 days in 2018. That's a 44% increase from 2016."
"The city's sewer agency has long-term plans, roundly criticized by City Council and community organizations as insufficient, to reduce overflows over the next two decades. By the city's own estimates—without accounting fully for climate change—these plans may still leave nearly 20 billion gallons overflowing per year."

On April 16th, attend public meeting for an update on the city's development of sewage overflow control plans. The city will present options under consideration to reduce overflows to the Hudson River, East River, Harlem River, Long Island Sound, and other major waterbodies. And members of the public will have a chance to ask questions and speak their minds.

Receive alerts from New York State when a combined sewer overflow has occurred in your area.
Read up on solutions at Cut the Crap NYC, a new website sponsored by Riverkeeper, NRDC, and Save the Sound.
Reduce your own flow into the sewers, to help reduce overflows. ..
Read full article here.
*************