A bit wonky but important: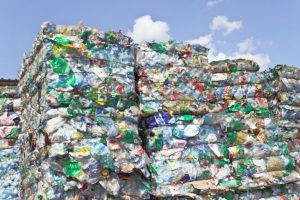 By Duncan Watson, Assistant Public Works Director, City of Keene, NH, President, Board of Trustees, Northeast Resource Recovery Association.
from SWEEP :
"the impact of China's National Sword policy..has left recyclers scrambling. ..a brief synopsis…
Around 2 decades ago China began incorporating capitalism into its economy and the result was…a torrent of demand for raw materials to fuel its double digit economic growth.  …China had its own .. free-for-all with little law or regulation to keep things in check. Developed countries seized on the opportunity to send their recovered discards to meet China's seemingly insatiable appetite for..everything.
…waste brokers were making a killing, as there was little in the way of specifications to risk a load being rejected. Soon upwards of 2,000 shipping containers filled with discards–paper, plastic, and metal–were leaving U.S. ports bound for China each day. In 2013 Chinese officials realized their country was becoming a dumping ground with, in some cases, over 20% of a received load being off specification and therefore requiring alternate disposal other than recycling….further exacerbated by the lack of infrastructure to properly dispose of the non-recyclable material. The result was polluted waterways, open burning dumps, and the expense of additional infrastructure to handle someone else's problem.
Through its 2013 Green Fence policy, China began the slog towards gaining control over its waste imports and put the world on notice … [re] non-compliance of specifications. ..[but] the world continued to send China the bulk of its discards….it was apparent that economic growth was more important than environmental protection…
Last July, China announced a new policy… National Sword..on January 1st…Unfathomably, little to no heed was paid to the potential impact on recycling programs and the domestic industry of eliminating demand for 55% of the world's scrap paper. But just because scrap paper and plastic demand has dried up, does not mean that supply has done the same. Recycling programs, built on 40 years of exhortation to do the right thing, continue to collect huge amounts of materials, materials that now have nowhere to go.
…we are currently in crisis mode…. there is not enough capacity in the world to replace China's lost demand. What we need is a profound rethinking of market structure and infrastructure in the U.S. …we should be responsible for improving the quality of the material processed by materials recovery facilities, and we should have greater capacity to utilize these raw materials domestically.
As this crisis continues to unfold …the next six months will likely see communities and recycling processors in the U.S. needing to make some uncomfortable decisions. There is no practical way to stockpile all the material that would normally be shipped to China….there probably will be a need to burn or bury large amounts of material until the market responds to make recycling domestically more economical.
…I operate a dual stream materials recovery facility, I am able to produce a quality of material that continues to make our product marketable. That may change as this crisis grows. …I support China's crackdown. …the new specifications are literally impossible to meet…[they] were not designed to improve the materials coming into China, they were meant to stop them completely, and…they've succeeded magnificently.
…it is incumbent on recyclers to improve the quality of their product to the greatest extent possible to compensate for the years where there was little to no accountability. .."