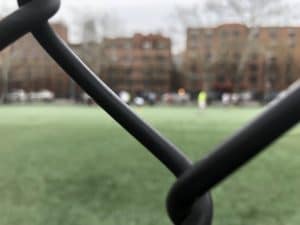 From the Mental Illness Policy Organization:
250,000 mentally Ill are Homeless. 140,000 seriously mentally Ill are Homeless
"No vision haunts America's conscience more than the sight of the street people… The irrationality and anguish that grip so many of these individuals leap out during any encounter, whether in Washington or Albuquerque."
—Senator Pete Domenici (R-NM)
SUMMARY:
In January 2015, the most extensive survey ever undertaken found 564,708 people were homeless on a given night in the United States.
Depending on the age group in question, and how homelessness is defined, the consensus estimate as of 2014 was that:
At minimum, 25 % of the US homeless—140,000 individuals—were seriously mentally ill at any given point in time.
45 % of the homeless—250,000 individuals—had any mental illness. More would be labeled homeless if these were annual counts rather than point-in-time counts.
 Where do they live?
69 % of the homeless (389,000) were sheltered (living in emergency shelters or transitional housing)
31 % (175,000) were unsheltered living on the streets or in abandoned buildings, vehicles, or parks.
These estimates do not include homeless "couch-surfers," who camp out on the sofas of friends and families, move every few days, and have no permanent address.
Source: US Department of Housing and Urban Development (HUD), The 2015 Annual Homeless Assessment Report (AHAR) to Congress, Office of Community Planning and Development, Abt Associates, November 2015, (accessed July 9, 2016).
BACKGROUND:
Mental illness is a major contributor to homelessness. In a 2008 survey performed by the U.S. Conference of Mayors, 25 cities were asked for the three largest causes of homelessness in their communities. Mental illness was the third largest cause of homelessness for single adults (mentioned by 48% of cities). For homeless families, mental illness was mentioned by 12% of cities as one of the top three causes of homelessness. (National Coalition on Homelessness)
Lack of treatment for the most seriously mentally ill causes the kind of delusions and bizarre behavior that makes living alone or at home with families untenable. As a result, many become people with untreated serious mental illness become homeless and communities are forced to bear the cost of that…"
Read more here.