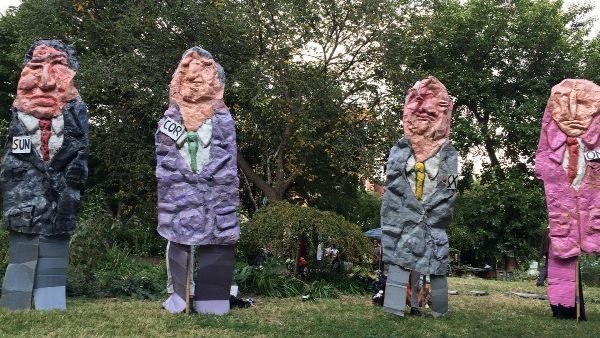 Stay Green Lungsters,
The planned destruction of East River Park is going to greatly affect our gardens. LUNGS is holding a public meeting this Thursday, January 17, at 7pm at 428 E10th St.(C&D) to discuss the situation.
We are in the middle of a struggle to preserve East River Park. We are fighting the proposed plan and its implementation. The City intends to close the entire park for at least 3 1/2 years beginning next Spring.
That means no baseball, no running, no dog walking, no people walking, no barbeques , soccer, frisbee, tennis, bicycling, no nothing. This will disrupt our entire neighborhood. Kids, the elderly, families, schools, everyone's life will be impacted by the shutdown.
And the gardens need to be prepared. We will have to open our garden gates and welcome the community to an even greater extent than we do now. People will need our green spaces for gatherings, to play tag, to bbq and to just to hang out.
The gardens are going to be hubs of increasing activity. We will have to be open longer hours to meet community needs. This will require greater diligence and more maintenance. Neighborhood needs are going to require more time and an even greater spirit of community from gardeners. There will be more pressure to volunteers. We need to recognize this, talk it over and strategize.
A Joint hearing on East River Park by the City Council's committees on Parks and Environmental Protection is scheduled for Wednesday, January 23, at 1pm at City Hall. We must turn out in numbers to voice our opposition to the plan.
Our city council member, Carlina Rivera, requested the hearing and has stated:
"This hearing will finally give the Council and our community the chance to hear directly from the Mayor's team and relevant agency commissioners regarding the recent changes to this monumental coastal protection project. Even with multiple community briefings and meetings with elected officials, we still do not have important details about this project, and I expect the Mayor's team to come well prepared and help us understand the need for these drastic changes"