Winter Update, 2018
The Stanton Building Task Force was formed by the Sara D Roosevelt Park Coalition, University Settlement, Green Map System and recently joined by FABnyc to return a NYC Park building to the community's use. The parkhouse, built for the public in 1934, was boarded up during the City's financial crisis of the 1970s. During the 1980's, after the community and the police reclaimed the park from drug dealers and pimps, it became storage for all of Manhattan's parks. Promises from the Parks Department of its return for public use date back to 1982.
With the combined efforts of the neighborhood, Council Member Chin, Manhattan Borough President Brewer, State Senator Kavanagh, and NYC Parks Department's Manhattan Commissioner Castro it now looks like we are on our way to the buildings restoration as public space. The recent approval from the City's Office of Management and Budget to resource the Department of Citywide Administrative Services to find a new location for the current storage. It beings to fulfill a promise made by Patrick Pomposello, who served as Manhattan's first Park's Borough Commissioner who said:
"with innovative thinking, you can accomplish anything. I never try to say 'no' to an original idea. You have to start by saying that it can be done."
We are all grateful to be a part of working to realize that commitment.
Community Center for the 21st Century
Centrally located just below Houston Street, one block east of the Bowery, the Stanton Building is a beautiful small brick parkhouse. It is perfectly located to serve as a multi-purpose hub of activity to better comply with its original intended use as an enhancement and support to the public's safety and enjoyment of Sara Roosevelt Park. Shaped through many multi-stakeholder community visioning sessions held since 2012, it has been made clear to us, given the public's outpouring of ideas and excitement that it is high time for the building to be returned as a neighborhood and park resource.
Serving a Multitude of Park Uses
From our visionings, outreach, surveys, everyday conversations for decades [since 1982!!!]: inviting and listening to all opinions (and constraints!) we have gathered the following community 'wish list'.
Provide access to sports equipment such as basketball, ping pong, yoga mats, and volleyball equipment (to cater to the stated wishes of underserved girls and women).
Serve the public and nearby community as a meeting space with flexibility to adapt as community/park needs and wishes change.
Take the lead on NYC Parks becoming models of sustainable public stewardship practice and education. Trainings offered on sustainability practices, building climate change awareness.
Stewardship of the surrounding area: gardening and tree care. Storage for gardening tools for this work. (The Horticultural Society and a solid core of volunteer gardeners are partners in the SDR Coalition).
Bird watching, education (The Audubon Society is a partner in SDR).
Practical skills trainings: including bicycle and shopping cart repair/innovation (a 'repair cafe'!). Everyone, especially youth, learning skills for the circular economy.
Creation of a site with local energy generation, waste reduction and other regenerative practices.
Design as a climate-minded model for under-utilized Park and community spaces citywide.
A place to practice well-being, self-reliance and social resiliency.
Emergency hub: The Stanton Building's location outside NYC's flood zone makes it perfectly situated to serve as a trusted and known safe haven during times of disruption.
Face the social challenges in parks citywide, including homelessness. Site an outreach desk for distressed people provided by Goddard Riverside Homeless Services (who is contracted to work in the park area).
An 24/7 open and security-monitored and maintained bathroom.
Remove trucks and cars and the container: improving air quality, preserving trees and plantings and increasing safety for the children, elders, bicyclists, deaf and blind community members, and all who gather in this narrow park.
The Stanton Building Task Force recognizes that an umbrella non-profit organization trusted by local elected officials, Parks, and community partners would most effectively run this site for the public. We also understand and expect that many partners would be involved in developing this unique project – however organizations with local experience, relationships, cultural competency and proficiency managing diverse needs will be crucial partners in the successful return and integration of the Stanton Street Building to the community.
Parks are at the intersection of green infrastructure, society and local neighborhoods. They are one of few democratic meeting spaces.
We can turn our challenges, problems or threats into opportunities through capacity building.
#StantonBldg will help the NYC Parks Department meet its mission, which highlights "resilient and sustainable parks, public spaces, and recreational amenities". Parks can normalize and naturalize efforts towards the City's 80 x 2050 goals by inviting everyone to enjoy learning new information and skills and meeting neighbors – all essential for surviving and thriving in a changing city. The concept of activating a staging area with public communications and solar energy charging hub has been endorsed by LES Ready, our district's long term recovery coalition.
A small 'Nature Unit' in this building will inform the public's increasing desire to have information on indigenous plantings, tree and bird life. The Audubon Society has already given tours for two of the 8 schools adjacent to this park. The Audubon Society is now working with yet another public school to rebuild a neglected plot using indigenous plantings for the local birds. The Horticultural Society ("The Hort") stewards a plot with Emma Lazarus HS in the Hester Street area. Pace and Tenzer HS's regularly work with the M'Finda Kalunga GreenThumb Garden. This garden harbors turtles and chickens and provides youth interns with opportunities to learn how to care for them. The Hua Mei Bird Sanctuary is alongside the Tenement Museum staff effort's with the "New Forsyth Conservancy" Gardens – part of that GreenThumb network. These are five of the seven currently stewarded plots here (along with efforts to garden more consistently around the Stanton Building). The Stanton Building could serve as an information point for getting involved in caring for our park – with help from Partnerships for Parks and the cadre of experienced gardeners and nature organizations already here.
Recreational usage in the northern end of Sara Roosevelt Park would be given fresh life with the ability to store equipment for active play in the nearby playground and fields. A ping pong table now sits unused in the Houston/Stanton area due to the need to bring your own paddle/balls. Children's playground equipment could also be stored here. And, desperately wanted back to this area, a volleyball net could be installed to bring in more girls and women to use the park.
Safety. We know through our four decades here that the only hedge against misuse of park space is an active invitation to come inside to find diverse park uses: whether it's sitting on a bench enjoying the sun or heart–pounding soccer play.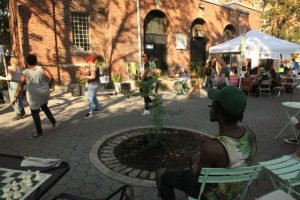 Milestones for the early-stage #StantonBldg project include:
The first million dollars in funding, earmarked for new restrooms, was requested by the SDR Park Coalition and allocated by Manhattan Borough President Brewer and Council Member Chin. The restrooms are designed, approved and moving into the construction phase. They are slated to open in 2020. Elected officials have publicly indicated their support (including financial) for the necessary renovations to return the building to full public use.
In summer 2017, the Stanton Building was a Design Trust "Public for All" finalist. The process expanded the audience and the Task Force organized collateral, including key letters of support, 12 articles, hundreds of petition signatures, as well as images, design sketches, and the existing blueprint of the building, inside and out. The slidedeck is at http://bit.ly/SB717.
Building on the visioning process, the #StantonBldg was part of the citywide #Sandy5 Day of Action in October, 2017. More than 50 participants delved into eight topics: Programming, Funding, Space Function, Marketing, Policy, Prototyping, Sanctuary and Curriculum during a public event hosted by The New School, Parsons School of Constructed Environments and TEDC, with support from LES Ready. 'Preparing for Today' materials and outcomes are shared on our new Facebook page and mailing list – find both at http://fb.me/stantonbldg. Climate anxiety and trauma reduction were key findings for the participating students who responded by designing an oasis of calm at Parsons in spring 2018.
2018: Gaining partners, momentum and site return to active public use are among the year's goals. The Task Force added a new partner with building reclamation and collaborative arts experience, Fourth Arts Block (FABnyc), which organized the latest event. An energizing and joyous It's Our Park Day was held in September 2018. It involved the arts, dancing, drumming, painting, planting, seed give-aways, Opioid overdose prevention trainings, children's activities, CSA outreach, Chess, elected officials, Community Board representatives, tenant leaders and organizers, local advocates, sustainability practices, and park stewardship activities and organizations. The evening production reminded the neighborhood of what a safe park could be like. The Illuminator created projections of the building's past and the audience was invited to draw their own vision of its future.
Members of the Task Force continue to make presentations about the project upon request, and work towards developing site control and creating a fundraising process.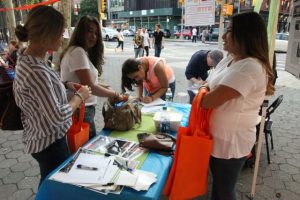 Nature, Culture & Climate at the Stanton Building
Get Involved! We will continue to democratically involve a broad cross-section of the area's diverse, often low-income, immigrant residents, officials, small businesses, renters, owners and residents, NGOs, and press in the planning of the Stanton Building's indoor and outdoor uses. The Task Force has also been meeting with new and potential partners, related city agencies, interested funders, journalists and organizations who could contribute programming, planning, outreach and other support.
Gaining site control to open the building to active public use via leasing (or other mechanism) is our current goal. Given several urgent needs we are developing a proposal to lease the building for a nominal fee or otherwise work with the City so we can move forward on a business plan, raise money and rehabilitate the space, then open the doors with continual feedback from Parks, the neighborhood and other Coalition partners.
Who is already on board? The community has the strong support from the Manhattan Borough President Gale Brewer, NYC Council Member Chin, NY State Senator Brian Kavanagh, and Community Board 3. The Task Force has continued regular discussions with Manhattan Parks Commissioner and other officials via regular NYC Park Operations meetings, at the community board, in responding to press, students and potential partners. #StantonBldg has been presented as testimony at City Council, at preparedness and eco-system service forums. Now, against the backdrop of increasing impacts from climate change and a 40% growth in the street homeless population this year, the City is inching closer to being on board with returning the building to public use.
The Sara D Roosevelt Park Coalition is made up of organizations, schools, nearby residents, and small businesses who partner in actively caring for and programming the 7.75 acre, 7 block long park and stewardship of the many community-run gardens within it as seen at http://sdrpc.mkgarden.org. This all ages, hands-on "Climate Action Lab" focuses on gardening, outreach to the neighborhood, festivals, and skills building programming led by numerous community members and organizations. K Webster is the current Coalition President and in addition to engaging with communities and groups that utilize the park, she heads up the Stanton Building Task Force. Jennifer Vallone, Senior Program Director at University Settlement brings that 130+ year old organization's experience with building and grant management to the table. The Task Force's sustainability and energy side is rounded out by eco-designer Wendy Brawer, Director of Green Map System. FABnyc brings in the cultural perspective and public building renovation experience. NYC Commons, CCCE, AAFE and Hester Street have been key supporters, with interest growing from Parsons the New School, New York City Community Garden Coalition, and others.
After extensive work (four decades worth!) and study and listening we are confident that these are worthy goals (certainly to begin with) and yet we assume these goals are in draft form and will be more clearly defined as we learn more and we take into account Parks restrictions and requirements, the needs of the park going public, and the diverse needs of the local neighborhood.
Find out more and get involved at http://fb.me/stantonbldg Join our mailing list at http://bit.ly/SBMList