Wellington Chen and The Chinatown Partnership have worked for this for decades. Nice to see it coming to fruition!
One of the Structures is slated to be on Grand/Chrystie near Sara Roosevelt Park.
From DNAinfo's Allegra Hobbs:
"The city is now accepting applications from designers to craft a public art piece to signal the entrance to Chinatown — part of a larger initiative to create artistic markers for several points of entry to the neighborhood."
From the Gateways to Chinatown website:
"The project will provide a new marker for Chinatown, Little Italy, and the surrounding neighborhoods in Lower Manhattan to engender pride of place, foster connectivity and cultural and social identity, and stimulate economic development. Straddling art and architecture, symbolism and function, the new structure and public space aims to become a vibrant place of exchange at the center of one of New York City's most dynamic and historically-rich areas.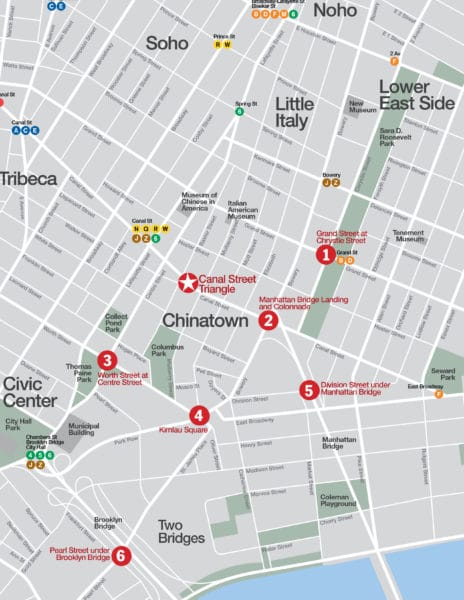 The project organizers ask prospective design teams to consider the following questions:
How can the site serve as a "gateway" responding to tradition as well as adapting to ever-changing cultural and generational demographics and technology?
How can the gateway connect and bring together existing communities and create new opportunities for both locals and visitors to experience the area in fresh ways?
How can the gateway site link to other gateways within Chinatown, across the city and around the world?
This project was initiated by Chinatown Partnership and is made possible by a grant from the Lower Manhattan Development Corporation, which is funded through Community Development Block Grants from the U.S. Department of Housing and Urban Development, and the Manhattan Borough President's Office."