It's My Park Day Clean up, plant and make this area beautiful! 
and
Campaign to Restore the Bathrooms in SDR Park! Do you use the ballfields in SDR Park? Want open and clean bathrooms there?
and
Envision a New Community Space at the Stanton Building!  what would you like to see here?
Wednesday July 6, 13 and 27 in Sara D Roosevelt Park
Envision a New Community Space at the Stanton Building!
Weds July 6th • 3 to 6pm – Stanton Street between Forsyth and Chrystie
It's a blank slate! Drop by and make a big impression. Explore resilient possibilities with the Stanton Building Task Force and NYCommons. Get inspired by:
Gardening via It's My Park Day by M'Finda Kalunga & Sara Roosevelt Park Community Coalition & the LUNGS Youth Program & Partnership for Parks
Bike Repair by The New York Mechanical Gardens Bike Co-op
Beekeeping with Alpha Bee City Honey

Renewable Energy with Solarize LES

Composting & Green Jobs

with Green Map System

LES History with the New Museum

Awesome exhibits by 596 Acres, Hester Street and other community groups

Zumba with University Settlemen

t
Thank you to Council Member Chin and Manhattan Borough President Gale Brewer, Jina Porter, Interpreter for our deaf neighbors, the Sara D Roosevelt Park Community Coalition, University Settlement, NYC Parks Department, Partnerships for Parks, Bowery Rescue Committee, Materials for the Arts, NY4Parks, LES Ready and the Collective for Culture, Community and Environment.
Clean Up the Park!
Campaign for the Park Bathrooms to be Restored!
Campaign for the Return of the Stanton Building to the Lower East Side Community
3 events in July to expand the vision and learn how to effectively generate change!
Wednesday July 6, 13 and 27 in Sara D Roosevelt Park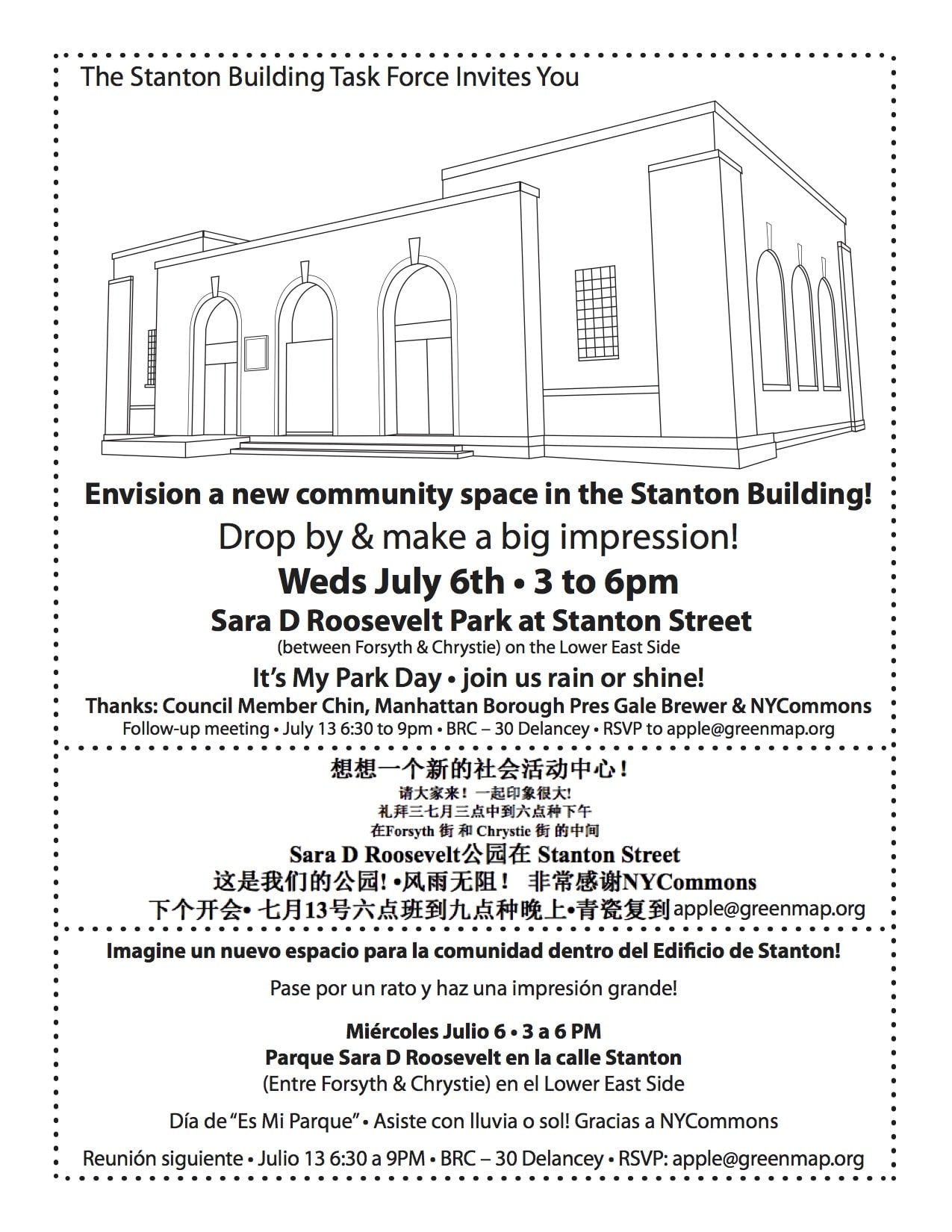 In 1998, residents were promised their community space would soon be returned. Instead, it's used for storage and in poor condition, which attracts other misuse of the Park as well as trucks coming and going in an area where children play and bicyclists ride.
This coastal community needs a space to generate relationships and resiliency. Located one block south of Houston Street and a block east of the Bowery in a rapidly gentrifying neighborhood, the Stanton Building could be an important anchor to the community and a gateway to Sara D Roosevelt Park. As one of the few public buildings located outside all the flood zones below Houston, it could function well as a refuge in times of disruption. It is in the heart of a community that is being priced out of financially viable democratic spaces.
For more information or to RSVP, contact apple@greenmap.org